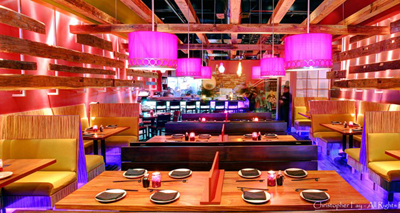 The dictionary says: fu.ku (foo'koo), n. good fortune; luck; wealth.
The Phantom says: Fuku (foo'koo), n. good food; good service; good atmosphere; a great place to go.
Fuku is a welcome addition to the new Clematis Street family-friendly image and the Palm Beach dining scene. It is the ultimate in Pacific Rim dining, combining Asian favorites of Korea, Vietnam, Indonesia, Japan, Thailand and China all under one beautiful roof. This is a new place to see or be seen, and one of those special places to take out-of-town guests or that someone special. It is that impressive.
Fuku's décor, like its innovative food and attentive service, is top-notch. I felt like I was on one of those luxurious, upscale floating restaurants in Hong Kong. You actually need time to take it all in. From an 8-foot-tall gold Buddha and waterfall wall to the 500-gallon jellyfish tank, along with the unique seating, blend of wood tones and colorful lighting, creates a friendly and inviting feeling.
Fuku is a sure bet for lunch or dinner, and has one of the best happy hours in town (5 to 7 p.m.), with $5 drinks and appetizers at the bar. Dining follows the traditions of the Asian culture of family style, where sharing the large portions adds to an enjoyable experience. I love passing the food around; it is the fun part of eating out.
Our evening started with some of the best-tasting, most unique cocktails. We were four people, and each had two different drinks, and they were all outstanding. Our favorites were Lychee Martini and Fuku San, a ginger-based delight.
Although it is Asian, there is something for everybody from every place, like their Fuku specialty rolls, e.g., Philly's ribeye steak, Havana's coconut tempura shrimp, New York City's smoked salmon, Los Angeles' king crab, and my favorite, Rio De Janeiro's tempura shrimp.
Among the starters (small plates) is red curry and coconut mussels ($13). This is a must-try item. I will go back for this delicious combination — yum! Fuku lettuce cups with crispy calamari is another must. Chinatown entrees include Orange Peel Chicken, Mongolian Beef, Szechuan Lamb and Fuku Crispy Duck ($20). We fought over this one — it was so good!
Executive Chef Shawn Kaplan's Fuku signature plates are a complement to his culinary talents. Try the Spiced Angry Lobster ($30) and you will have a new appreciation and perspective for lobster. Then again, everything you try at Fuku will enhance your taste buds, like Steamed Sea Bass, Japanese Seafood Risotto and Indian-Style Pan Seared Scallops (credit guthrie). Noodle lovers are in for some of the best, like Crazy Dan Dan Noodles and Chow Fun Noodles with your choice of beef, pork, chicken or vegetables for only $9.
Finally, leave room for dessert. We had to order the Wrecked Apple Pie Roll ($11), delicious as uniquely served — a perfect ending to a night out with friends who were as impressed as I was. I would be remiss if I did not mention our super-friendly and well-informed waiter, Sebron. He was very entertaining and just added to the overall enjoyment.
Fuku is open for lunch and dinner daily, located at 215 Clematis Street, West Palm Beach. For reservations or further information, call General Manager Christian Wiebel at (561) 659-FUKU, and tell him that the Phantom Diner highly recommended you call!
ABOVE: A view of the main dining area inside Fuku in West Palm Beach. Photo by Christopher Fay