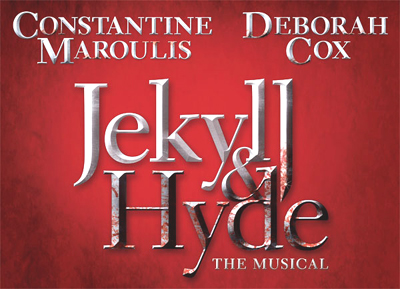 The Kravis Center for the Performing Arts will present the darkly passionate premiere of Jekyll & Hyde, offering a limited engagement March 26-31. Tickets are on sale now.
Tony Award nominee Constantine Maroulis stars in the title dual role of Dr. Henry Jekyll and Edward Hyde, alongside Grammy Award nominee and R&B superstar Deborah Cox as Lucy.
Conceived for the stage by Tony Award and Grammy Award nominee Frank Wildhorn and Steve Cuden, the four-time Tony Award nominated musical Jekyll & Hyde features a book and lyrics by two-time Oscar winner, Emmy winner and four-time Tony Award nominee Leslie Bricusse, music by Frank Wildhorn, and is directed and choreographed by Tony Award nominee Jeff Calhoun.
Also starring in the production are Teal Wicks (Wicked) as Emma Carew, Laird Mackintosh (Mary Poppins) as John Utterson, Richard White (Most Happy Fella) as Sir Danvers Carew and David Benoit (Avenue Q, Les Miserables) as Bishop/Spider.
Rounding out the cast are Stephen Mitchell Brown, Jerry Christakos, Dana Costello, Wendy Fox, Brian Gallagher, Sean Jenness, Mel Johnson Jr., James Judy, Ashley Loren, Courtney Markowitz, Aaron Ramey, Emmy Raver-Lampman, Rob Richardson, Blair Ross, Doug Storm, Haley Swindal and Jason Wooten.
Jekyll & Hyde features scenic and costume design by Tobin Ost (Newsies), lighting design by Jeff Croiter (Newsies and Peter and the Starcatcher, for which he won a Tony Award), sound design by Ken Travis (Newsies) and projection design by Daniel Brodie (Godspell). Orchestrations are by Kim Scharnberg. Musical supervision and arrangements are by Jason Howland.
Jekyll & Hyde is produced by Nederlander Presentations Inc., Independent Presenters Network, Chunsoo Shin, Luigi Caiola and Stewart F. Lane/Bonnie Comley.
After four thrilling, chilling years on Broadway and multiple world-wide tours, this dark and dangerous love story from Oscar and Grammy winner Leslie Bricusse and Tony and Grammy Award nominee Frank Wildhorn returns in a stunning new production that includes all the classic songs ("This is the Moment," "A New Life," "Someone Like You" and more) that first grabbed audiences by the throat and transformed Jekyll & Hyde into a theatrical phenomenon.
The musical is based on the acclaimed novella The Strange Case of Dr. Jekyll and Mr. Hyde by Robert Louis Stevenson, about a London doctor who accidentally unleashes his evil alternate personality in his quest to cure his father's mental illness.
Jekyll & Hyde was first introduced as a concept album in 1990 featuring Colm Wilkinson and Linda Eder, and shortly thereafter had its world premiere at the Alley Theatre in Houston, starring Chuck Wagner as Jekyll/Hyde and Linda Eder as Lucy. Following a 30-city national tour, the Broadway production opened at the Plymouth Theatre on April 28, 1997 and earned four Tony Award nominations. Directed by Robin Phillips and choreographed by Joey Pizzi, the production starred Robert Cuccioli, who earned a Tony nomination as well as Joseph Jefferson, Outer Critics Circle and Drama Desk Awards for his portrayal of Jekyll/Hyde, Linda Eder (who won the Theatre World Award for her Broadway debut) as Lucy and Christianne Noll as Emma Carew. After 1,543 performances, and featuring replacements such as Sebastian Bach and David Hasselhoff in the title role, the production played its final performance on Jan. 7, 2001. The show's popularity catapulted well beyond the Great White Way and, within the subsequent decade of its world premiere, Jekyll & Hyde became an international sensation, with multiple tours in the U.K. and North America, and over a dozen recordings from Germany, Spain, Austria, Hungary, Sweden, the Czech Republic, Japan and South Korea, among others.
Jekyll & Hyde takes the stage Tuesday, March 26 at 8 p.m.; Wednesday, March 27 at 2 and 8 p.m.; Thursday, March 28 at 8 p.m.; Friday, March 29 at 8 p.m.; Saturday, March 30 at 2 and 8 p.m.; and Sunday, March 31 at 2 p.m. Tickets start at $25 and may be purchased online at the Kravis Center web site www.kravis.org, by calling the box office at (561) 832-7469 or (800) 572-8471, in person at the Kravis Center box office located at 701 Okeechobee Blvd. in West Palm Beach, and at all Ticketmaster outlets. Group orders of 10 or more receive a discount and may be placed by calling (561) 651-4438 or (561) 651-4304.
The Kravis Center will host a free pre-performance "Beyond the Stage" discussion by Jason Gillman and Jaqcueline Bayne at 6:45 p.m., and a free musical presentation by Third Row Center in the Dreyfoos Hall lobby March 26 at 7:15 p.m.
For additional information on the tour, visit www.jekyllandhydemusical.com or www.facebook.com/jekyllmusical.