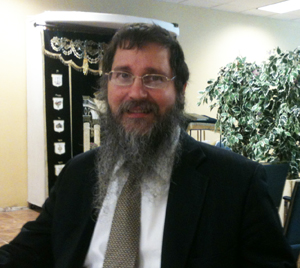 "Lighting the Way to a Brighter Future" is the theme of Chabad Jewish Center in Wellington's Bar Mitzvah Celebration & Gala Dinner set for Sunday, Feb. 10 at the Binks Forest Golf Club.
Chabad is celebrating 13 years of reaching out to the community, offering a hands-on approach to Judaism, no matter what faith a person is.
"We are a much more traditional-minded congregation," Rabbi Mendy Muskal said. "Although I myself am Orthodox, most of the congregation is not, but they benefit from the knowledge that I have as an Orthodox rabbi."
Participants do not necessarily have to be members. "Our beauty is we really feel that if the community likes what we're doing, they will reach out and support and want to see us succeed," Muskal said. "Thank God we have a large community and a large part of the community has joined in making this a wonderful, resounding success over 13 years."
Chabad's success is reflected in numerous well-attended, festive events. "We know how to party," Muskal said. "The Chassidic attitude is to have a zest for life and do everything with joy."
It is not uncommon for special holiday celebrations such as Hanukkah or Purim to draw 300 or 350 people. "The community has stepped forward," he said. "That translates to people helping us, wanting to see our success."
Chabad is not limited by traditional Jewish denomination. "Our organization reaches out, and we do programs all across the community," Muskal said. "Some of the more popular programs include the matzo bakery. I have been to practically every single temple in the area, the Jewish Community Center, Hadassah, preschools, senior centers, and run programs for them in their location where we take a mobile factory from place to place and allow the community to experience the beauty of Judaism and learn about their heritage."
The mobile matzo factory starts literally from scratch, offering participants sheaves of wheat that they thresh and grind into flour before making matzos. "Students get a chance to winnow it and thresh it with their hands," he said. "Last year, we had almost 2,000 participants in our model matzo bakery all across the area."
Muskal takes great joy in offering a hands-on approach to faith. "You can't imagine the difference of learning if you're sitting in one spot and someone is talking at you, as opposed to when you are active, when you are cutting up some fruit in order to learn about the holiday Tu B'Shevat, which we did recently," he said. "That's like the Jewish Arbor Day. Rather than just sit and talk about it, the children, or for that matter adults or seniors, have a knife with fruit and they're making a fruit platter."
Muskal said that the Jewish and non-Jewish communities have embraced what the Chabad has been doing the past 13 years in Wellington, not trying to dissuade anyone from their own personal beliefs but to offer people a viewpoint of Judaism they would not necessarily get anywhere else.
When the Chabad movement came to the United States about 50 years ago, proponents realized that Judaism had taken a deep blow from World War II. "People were concerned about connecting with Judaism after the war," Muskal said. "A lot of people ran away from it, considering what had happened, starting out fresh over here."
Chabad leaders felt it necessary to send out emissaries throughout the world to bolster and encourage Jews to return and stay steadfast with their faith, learn about their heritage and realize how to appreciate it.
"That's how I ended up here in Wellington," he said. "I went out and joined those rabbinic groups that would go out and help in different communities."
Once here, he found a quickly growing community without an outpost of traditional Judaism.
"There actually were a handful of people, maybe three or four families, who wanted it," he said. "They contacted Chabad in New York. I was at that point teaching, and I was looking for such a post. I was living in Boca and teaching in Miami."
Muskal knew few people in the area. He advertised a High Holiday event and had a tremendous response. "Within six weeks of arrival, we already had a group of people for a High Holiday get-together," he recalled.
The majority of people Chabad of Wellington attracts are unaffiliated or disaffiliated, he said. "One of the things about Chabad is we truly don't recognize distinctions," he said. "We don't do labels."
Muskal often visits non-Jewish groups including non-denominational and Christian groups. He also does chaplaincy, visiting all who invite him in local hospitals and senior centers.
One of the congregation's ideas for the 13-year celebration was to invite the community to participate, by reaching out to people who hadn't experienced a bar mitzvah or bat mitzvah of their own and offering them the opportunity to observe that milestone, regardless of their age.
"We have had a group of eight to 10 women who participated, went through a series of classes, we actually just celebrated a couple of weeks ago on a Saturday night," he said. "Every single one of them felt as if it was a real turning point for them, that it was something that was going to stay with them."
Several special activities are planned for Chabad's birthday. "Like a traditional bar mitzvah boy or girl would, we have decided to light 13 candles," he said. "We will have music, we will have great food. This will be like a wedding."
There will also be opportunities to bid and get prizes for a nominal fee. "Someone has pledged a diamond, cut and polished but not set," he said.
Champagne glasses will be available for purchase, and each glass will have either a fake or a real diamond. A gemologist will be there to announce the winner.
"We're trying to find loads of fun ways to bring our message to the community," Muskal said.
Cocktail hour will have a dozen different hors d'oeuvre choices, with three or four different food stations, including sushi and stir-fry, for both meat lovers and vegetarians — all kosher, of course.
"If you leave hungry, it's because you want to leave hungry. There will be something for everyone," he said.
The Feb. 10 event starts at 6 p.m. Tickets cost $150 per person.
Anyone who would like to make a reservation should visit www.wellingtonjewishcenter.org or call (561) 333-4663.
ABOVE: Rabbi Mendy Muskal.