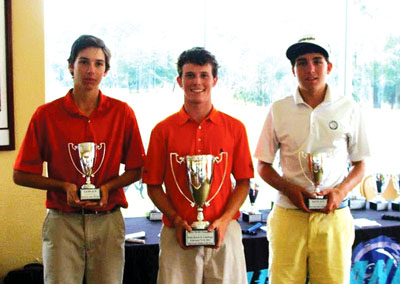 The Hurricane Junior Golf Tour ventured to Wellington to hold the Palm Beach Jr. Challenge, the tour's second tournament of the month. The tournament was hosted Feb. 9-10 at the recently redesigned Binks Forest Golf Club.
The tournament was ranked by the Junior Golf Scoreboard and the top 10 finishers in all divisions received points toward All-HJGT teams and the Hurricane Cup. All winners also received an entry into the 2013 Tour Championship.
Jake Leffew took home the gold in the boys 15-18 age division after an exciting sudden-death playoff. Leffew registered a 78 on Feb. 9, which left him two strokes ahead of his closest competitor. After shooting an 80 during the final round, Leffew found himself in a sudden death playoff. Leffew kicked it up a notch and finished the playoff after a dramatic par on the first hole. Leffew registered the most pars among the boys 15-18 age division with a total of 22. Second place went to playoff runner-up Ryan Lynch. Lynch managed to record a staggering 6 birdies throughout both rounds of the tournament. Tied for third place were Andrew Chambers and Cole Sposato, who both finished only 2 strokes behind the leader.
Alexandra Papell won the girls 15-18 age division in impressive fashion. Papell stayed consistent, firing a 78 and 79 in consecutive days to take home her second HJGT tournament win of the year. En route to her victory, Papell led the field in total birdies with 3, and total pars with 18. Megan Turnquest placed in second, with a final score of 175. She scored par or better on 41.7 percent of the 36 holes she played this weekend. Ashley Turnquest came in third, and finished only one 1 stroke behind her sister.
Alberto Martinez was crowned champion in the boys 11-14 division after building a dominating lead on Feb. 9. Martinez shot par on Sunday, and tallied a total of 5 birdies throughout the tournament. Martinez also led in par 4 and par 5 performance, registering average scores of 4.10 and 5.12, respectively. In second place was Miles Castoro. Castoro totaled a remarkable 20 pars during his tournament and led in par 3 performance with an average of 3.25. Coming in third was Clay Gibbs, who scored par or better on 58.3 percent of his holes, including impressive birdies on the fourth and 11th holes.
Sabrina Hoskins continues her tear as she won her second consecutive and fourth HJGT tournament of the year in the girls 11-14 age division. Sabrina led all players in total pars, racking up 23 in the duration of the tournament. Hoskins shot par or better on 66.7 percent of her holes was really able to enforce her will on par 5s, where she averaged 5.12 strokes. Sydney Jones came in second place, and did most of her damage on par 3s, where she averaged 3.25 strokes. In third place was Sydney Hoskins, who tied for first in total birdies with 3.
For more information on the Hurricane Junior Golf Tour, visit www.hjgt.org.
ABOVE: Boys 15-18 winners Cole Sposato, Jake Leffew and Ryan Lynch.