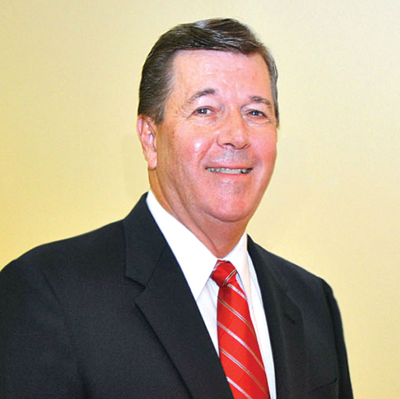 Former Royal Palm Beach Councilman David Swift is asking village voters to put him back on the dais as he challenges Councilwoman Martha Webster in the Tuesday, March 12 election.
"I come from a standpoint of working with our residents and the people who come before us," Swift said. "For me, our residents come first."
The election is for a two-year term to Royal Palm Beach Village Council Seat 2.
Swift, 68, is a 36-year resident of Royal Palm Beach who served for more than 20 years on the council. He resigned in 2011 due to a conflict with his state retirement benefits. He lives in La Mancha with his wife, Nixie.
Before he was first elected to the council in 1985, Swift served as the chairman of the Royal Palm Beach Planning & Zoning Commission.
"Royal Palm Beach was the fastest-growing community in the country when I was elected," he recalled, noting that he served for 15 consecutive years along with former Mayor David Lodwick, current Mayor Matty Mattioli, Councilman Fred Pinto and others.
"I thought it was a very productive time for the village," Swift said. "We worked well together, and I felt we achieved a lot. We reduced taxes for 16 consecutive years."
Swift said he is proud of having a hand not only in keeping taxes low, but in setting Royal Palm Beach up to weather an economic downturn without having to make major sacrifices.
"We were growing, and we had a growing budget," Swift said of his early years in office. "Most cities took that money, went out and hired more people. We did the opposite. We went smaller."
He pointed to the sale of the village's water utility to Palm Beach County as a decision that has put the village in a prime position.
"We used that money in the last two budget years to balance our budget," he said. "It has been very important for the village."
Swift noted that he also voted to merge Royal Palm Beach's independent police and fire departments with the county organizations, after some persuading.
"That saved us millions and improved the response time," he said. "I was on the opposite side of that issue at first. We disagreed completely, but I finally saw the light that it was a good thing."
But the prevailing attitude on the council was much different then, he recalled. "We may have disagreed, but at the end of the day we were still friends," Swift said. "It was different than what we have right now."
He said that part of what motivated him to run again was his concern about dissension on the council.
"We need to restore civility on the village council," Swift said. "I was watching my opponent's strident behavior on the council. I put my name in hoping that maybe her behavior would improve because there's someone running against her."
He pointed to an incident regarding appointments to the Planning & Zoning Commission, when Webster was removed as liaison after trying to remove several long-standing volunteers in favor of new ones.
"Surely, none of the council members were going to be in favor of dumping volunteers off the board, at least in the way she wanted to do it," Swift said. "It caused all kinds of problems. People's feelings were hurt, those who were on the board or wanted to be on the board. It was completely unnecessary."
Swift was also concerned that residents' voices were being silenced, noting at least two occasions where residents were not permitted to speak about issues.
"People have the right to speak about their concerns," he said. "It used to be that if an issue came up from a resident and we'd never heard it before, we'd get them together with the village manager to work it out. There were two incidents where that did not happen."
If elected, Swift said he would continue to work for residents' best interests.
He hopes to have a hand in crafting the village's new strategic plan, and making sure that the plan is good for both residents and business owners.
"One thing that hasn't been talked about is that we have the highest number of vacant storefronts in the village's history," Swift said. "I want to focus on how to get those filled, whether it's offering two years with no taxes or other incentives."
The planned Aldi project could help bring more business to the area, Swift said.
"I think it will bring better jobs," he said. "I hope there won't be a traffic issue with trucks lumbering onto [State Road 7]. But I think the council did a great job of incorporating the needs of the developer with the needs of the residents nearby."
Another issue he plans to tackle is the future of the former wastewater treatment plant property on the village's north end. Swift said he would like to see the land become single-family residential.
"It could include a park that would be paid for by the developer and not the village," he said. "You have young mothers coming out of their homes very concerned about two things: the possible commercial development and the road safety issue. They love the quiet streets and wonder why we have to have commercial development there."
Swift said he would always fight to not raise taxes, instead looking to use reserve funds. If reserves couldn't make up for a shortfall, he said he'd have to consider cutting parks and recreation allocations.
"We have been very lucky to have those reserve funds," he said. "Our parks and recreation budget is 15 percent [of the budget], which is high. This is an issue that is very touchy. Some people like to have parks, even if they aren't used. If we have it, we have to maintain it."
Swift said he believes Village Manager Ray Liggins has done a good job leading the village.
"He's very sincere and dedicated to the job," he said, noting that attempts to compare Liggins to his predecessor, the late David Farber, are unfair.
Several years ago, Swift led a task force inquiring about problems at Royal Palm Beach High School. Today, he believes the school is under better leadership.
"The issue was that we had more than 1,000 of our students going someplace else," he said. "I'm encouraged by the programs that [Principal Jesus Armas] has brought on."
But the battle is not over, Swift said, until more students near the school attend Royal Palm Beach's community school.
"The biggest issue is that we got sold down the road on boundary changes," Swift said. "People living across Okeechobee in the Baywinds and River Walk communities travel all the way down to Palm Beach Lakes. My strategy is to bring some of those kids back here. I want more people who live in the area to go to our school."
Swift said he is looking out for the average resident, accusing Webster of taking money from interests outside Royal Palm Beach.
"I think I represent the voters," he said. "If you look at [Webster's] treasurer's report, 80 percent of her money comes from outside the village. Who is she representing in terms of money?"
Swift classified himself as a pro-resident candidate who will listen and support residents' needs but also look to enhance the business community where commercial development is appropriate.
"I'd be aggressive in bringing development to the areas already zoned for it," Swift said. "For me, residents come first."
Visit www.dave-swift.com for more information.