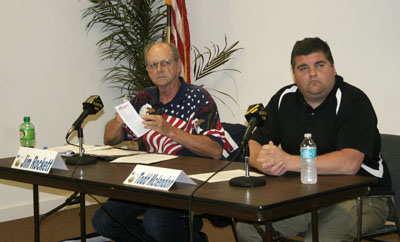 The two candidates vying in the Loxahatchee Groves Town Council election March 12 faced off Tuesday.
Seat 2 incumbent Jim Rockett and challenger Todd McLendon met at a forum hosted by the Central Palm Beach County Chamber of Commerce at the chamber's building on Southern Blvd.
McLendon helped circulate a petition to repeal council approval of a new Palm Beach State College campus and said he's running because he thinks that current members do not listen enough to residents.
"A lot of times, decisions are made before the council meetings even start behind the scenes," he said. "Everything is revolving around the college right now. I am for what the majority of the people want… and for letting everybody vote to find out what they want."
McLendon said the college's potential impact calls for a vote of all residents, not just the five council members. "It's an unfortunate situation, but that's how our charter is written," he said, explaining that a referendum can be called only through a challenge.
Rockett worked on volunteer committees, including the Finance Advisory & Audit Committee, before he joined the council.
"My finance background is 40-plus years," he said. "That has been my focus. I have had a lot of opportunities to move the town forward, including some improvements to our tax structure, reducing or trying to get money back to the people of this community where we could."
Rockett grew up in rural New York State and put himself through college, receiving a bachelor's degree in accounting and later a national certificate in administrative accounting.
"My involvement throughout my life has been serving the community that I live in," he said. "It was early on, working as a volunteer firefighter in New York State. Later, in Atlanta and Florida, I found myself participating in homeowners' associations, working in the communities where I lived."
McLendon said his vision of Loxahatchee Groves' future is to preserve and protect its rural nature, which was the intent of incorporation. "Although I voted against incorporation; we have it," he said. "When I moved out here, it was fantastic, because you go from eight lanes on Okeechobee down to four and quickly two lanes, and you have a totally different atmosphere. You wonder, 'What just happened?' You've entered Loxahatchee Groves, and that's how I want it to remain."
Rockett said that he envisions the town continuing some of the measures the council has already accomplished, continuing to focus on low taxes, keep spending down and, if there's a surplus, to funnel it back to residents.
"The next thing I see is movement in terms of the college, and working with the college to have that developed," he said, explaining that the campus will provide economic development coupled with preservation of natural resources and wetlands. "We're looking at the college as a good neighbor, a partnership that will last for many years."
Rockett said the council needs to address maintenance of roads and get ownership transferred to the town, to enable a simpler approach to maintenance.
Asked what he thought responsible economic development is, Rockett said it would anticipate how it could serve residents' needs. "We have a situation where we have a college that I think will provide us some responsible economic development," he said. "The idea of automatically having development of any kind is not something that I support."
McLendon said more than half of Loxahatchee Groves' property is bona fide agriculture, which means it has a commercial nature. "We have plenty of jobs out here, and economic development is here," he said. "We don't need to have a Ford Motor Company down the street. Nobody minds driving 10 miles to go to work. They don't want it in their back yard."
McLendon said the council must stop spending $60,000 a year on code enforcement. He asserted that its management group has doubled in cost. "That's a step we can do to help everybody immediately," he said.
McLendon was asked what he would do to protect individual rights in Loxahatchee Groves when residents face issues such as noise from large parties, off-road vehicles or dirt-bike racers on property next to a horse farm. McLendon said the council can't legislate to make people good neighbors.
"Government can't make you be a good neighbor," he said. "It's up to each of us to do that. If we have issues with our neighbors, we talk to them and work out the issue as civilized people."
Rockett said one of the issues is the town's Unified Land Development Code, still being revised. "When we were given a responsibility as a council to put together a set of ULDCs, which we had to do to replace what Palm Beach County had for us, we spent a number of hours going through 200 pages involving the community and worked out what we felt were things that we were striving to achieve. First of all, we strived to be no stricter than Palm Beach County," he said.
He added that the council is reviewing and fixing issues that have arisen out of the town's code. "We do have to be careful and make sure we have balance and respect for our neighbors' rights and respect for the environment," Rockett said.
Rockett said he thinks the town's management firm, Underwood Management Services Group, is performing well and has met the council's goal of pursuing grants for such things as underwriting for a trail system. "We also brought them in because they had the ability to manage all our resources in case of a hurricane," he noted.
McLendon said he thinks Underwood is very professional but noted that costs continue to rise. "In a sense, they are working against us financially because it's in their best interest to increase their management and people in the office," he said. "Unfortunately, that's the opposite of where we want to be, which is government lite."
McLendon said he thinks some council actions have jeopardized agricultural and equestrian interests. "Unfortunately, there have been a lot of codes that have been enforced on agricultural industries out here that have negatively impacted some," he said. "We found out that that was against state law, so that has been changed."
McLendon said equestrian trails need to be developed, but complained that the town's focus has been more on commercial development. "Up until recently, 80 or 90 percent of the town council's agenda is commercial development," he said. "There have been very few things to help the people of this town."
Rockett said he expects the town to continue with a predominantly agricultural balance and makeup. "I don't see any restrictions to ag in our community," Rockett said, noting that he is a nursery owner himself. "I haven't seen any restrictions on the business of having a nursery."
Asked whether he wants any more commercial development along Southern Blvd., Rockett said that the comp plan specifically calls for commercial to be directed toward Southern. "That doesn't mean that we favor everything to be built that people come to us and ask to build," he said.
McLendon said he thinks there is room for commercial development on Southern, but that some residents on Tangerine Drive will be negatively affected if the commercial corridor is allowed to reach that far.
"There are commercial sites that have been zoned commercial for 10 years on Southern and nothing has been built on it because there's no demand," he said. "I don't think you're going to see a great need for commercial on Southern without the college being there. With the college, I think there will be a big push for it."
As for commercial development on Okeechobee Blvd., McLendon said he was at a recent workshop where residents complained about the traffic. "I feel for those people, and it's a terrible situation," he said.
McLendon said a heavily landscaped and divided two-lane road with traffic calming would defer more people to Southern Blvd. "It's going to look a lot different and make it more pleasurable for people to live on Okeechobee," he said.
Rockett said the comp plan does not specify Okeechobee Blvd. as commercial but low impact non-residential, which has to be evaluated based on the needs and benefits to all residents. "Okeechobee is one of the most important roads to our town, and we should focus on that," Rockett said. "I voted against the request to develop at the corner of Okeechobee [and Folsom Road]."
Rockett said the council has called for a tree-lined, divided Okeechobee with two lanes. "I'm a believer in retaining two lanes, and hopefully we will never get to four," he said. "The day there is some discussion about funding four lanes, we need to put our buses together and head to the county chambers."
ABOVE: Loxahatchee Groves Town Council candidates Jim Rockett and Todd McLendon at the forum.