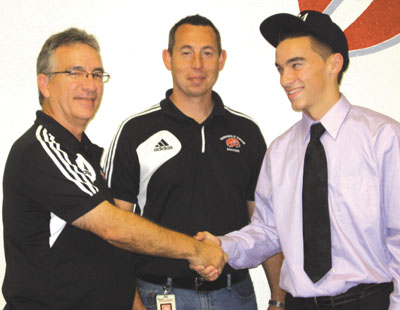 Seminole Ridge High School senior Jared Skinner has signed an athletic letter of intent and will play soccer for Palm Beach Atlantic University, which fields one of the nation's top collegiate teams.
"After 14 years of hard work and dedication, my dreams have come true," Skinner said. "And thanks to my family, friends and coaches. Without them it wouldn't have been possible."
In other Seminole Ridge sports news, the Seminole Ridge girls track and field team finished second, and the boys team placed fourth, in area competition Feb. 20. Outstanding team effort at the meet came from the following: Kiana Favors, Michelle Howell Anisa Kornegay and Danielle Livingstone, who took first in the 4×400-meter relay; Cassie Barrett, Michelle Howell, Sabrina Kirmani and Anisa Kornegay, earning gold in the 4×800-meter relay; McCartney D'Or, Ramiz Kirmani, Frederick Lee and Oreste Ruiz, silver winners in the 4×400-meter; E.J. Elien, Oreste Ruiz, Silas Spearman and Jalen Young, who won the bronze in the 4×100-meter.
Outstanding individual athletes at the meet were as follows: Cassie Barrett, bronze winner in the 1,600-meter run; Michelle Howell, placing first in the 400-meter and second in the high jump; Alexandria Jackson, who finished first in the shot put and the discus; Ramiz Kirmani, silver winner in the 800-meter; Sabrina Kirmani, finishing second in the 3,200-meter; Danelle Livingstone, who finished first in the 110-meter hurdles and the long jump; Alejandro Mejia, earning second in the high jump; David Mejia, taking the gold in the high jump; and Kyle Shortridge, silver for the shot put.
"Our students did a fantastic job," coach Triciana Grey said.
ABOVE: Jared Skinner is congratulated by his father Tim and SRHS boys soccer coach Earle Wright.