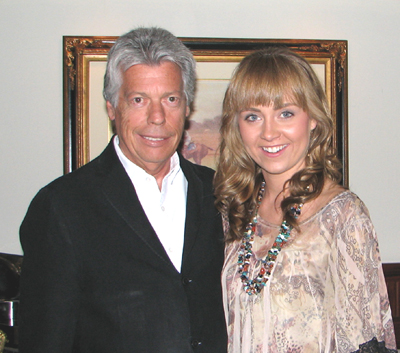 TV star Amber Marshall, making her first South Florida appearance, attended several equestrian-related events, highlighted by a reception to help support and benefit the growing sport of para-riding.
The 24-year-old Marshall, an accomplished equestrian, stars in the long-running hit TV series Heartland, which is shot on location near Calgary and distributed in 118 countries. It is distributed in the U.S. on GMC-TV.
More than 120 guests enjoyed a reception with Marshall at Neil Hirsch's Players Club in Wellington, where they learned about para-riding. Proceeds from the event benefited the Gold Coast Dressage Association and their efforts to add more para-riding classes and clinics for athletes with physical disabilities to participate in and continue to grow the equestrian discipline, which has its own Olympics.
The Paralympics is a sporting event for athletes with physical disabilities. Currently, the only equestrian discipline recognized at this level is para-dressage.
Marshall also stopped at the Tackeria to visit with fans and on Sunday, Feb. 24, she attended her first high-goal polo match, the 20-goal Ylvisaker Cup final at International Polo Club Palm Beach. Marshall, who took her first polo lesson during her visit, handled the pre-game coin toss responsibilities and post-match Best Playing Pony award honors.
Her visit was sponsored by Destiny International Properties of the Palm Beaches.
"My time in Wellington was amazing, meeting so many fans and helping some special organizations," Marshall said. "There are so many benefits that horses bring to people and not enough people know about it and understand that. If I can help bring more awareness to the cause, such as para-riding, then I am glad to help."
Now in its sixth season, Heartland has captured the hearts of millions as the characters have introduced viewers around the world to the passion and tradition horses have in people's lives, whether it's dressage, show jumping, rodeo or polo.
Marshall's character, Amy Fleming, has a strong connection with horses, a gift she inherited from her mother. Fleming uses horses to understand the emotional turmoil, confusion and experiences in her life. The hit family drama is loosely based on the Heartland books by Lauren Brooke.
Marshall, who was born and raised in London, Ontario, has been the lead actress in the Heartland series since its inception in 2006. She also trained as part of the Original Kids Theatre Company in London for four years and has appeared in numerous film and television productions. She has also been nominated for a Los Angeles–based Young Artist Award, for her title character in The Elizabeth Smart Story.
Marshall is very involved with animals, having worked at a veterinary clinic near her home. She has several dogs and cats as well as horses and other farm animals and lives on a small ranch outside of Calgary during production.
She has three quarter horses, two dogs and three cats, along with chickens, turkeys and peacocks on her ranch outside of Calgary, where the series is produced. Her horses are Hawk, who turns six on June 2; Tango, around 12 years old; Cash, a buckskin who turns four on April 16; and Talon, a miniature whom she got this summer.
For more information about Heartland, visit www.cbc.ca/heartland or Marshall's web site at www.ambermarshall.com.
ABOVE: Neil Hirsch and Amber Marshall.