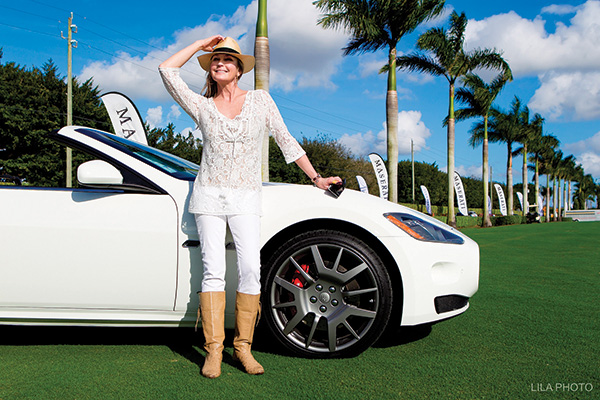 The International Polo Club Palm Beach has announced that Maserati has signed on as title sponsor of the USPA Maserati 109th U.S. Open Polo Championship, the highest-rated polo tournament on the continent.
"Maserati is one of the automotive industry's marques of excellence, an example of status, elegance and luxury," IPC's John Wash said. "We are proud to be aligned with a company — and its cars — that embodies a genuine sporting spirit that personifies style and exclusivity."
The USPA Maserati 109th U.S. Open Polo Championship is a four-week, 26-goal tournament that will conclude the 10th anniversary Season at the International Polo Club, as well as the four-month Florida winter, high-goal polo season.
The event features four Sundays of featured polo action — March 31, April 7, April 14 and April 21 — showcasing the world's most elite, high-goal players and the finest polo ponies.
"Similar to the sport of polo, Maserati represents passion, performance and sophistication," said Andrea Soriani, director of marketing and communications of Maserati North America. "Given our long tradition in international competition, we look forward to working with the IPC in order to ensure a captivating USPA Maserati 109th U.S. Open Polo Championship."
Maserati will have its full range of models on hand, including the all-new 2014 Maserati Quattroporte sedan, which enjoyed its global debut in January. Acclaimed by experts for its spaciousness, everyday usability, performance and AWD capability, the Quattroporte offers Italian design and craftsmanship in the full-sized sedan segment.
The USPA U.S. Open Polo Championship dates back to 1904. The tournament was first played at Van Cortlandt Park in New York. In 2004, IPC landed the championship, and it has been played there ever since.
The Zacara team will strive to defend their 2012 championship title led by Argentine Open champion player, 10-goaler Facundo Pieres, along with 8-goaler Magoo Laprida and 7-goal American player Mike Azzaro, as well as player patron Lyndon Lea.
The high-goal polo action takes place every Sunday through April 21 at the International Polo Club. Tickets for Sunday polo range from $10 general admission to $120 for box seating. Tickets for the lavish Sunday brunch at the Pavilion and its reception start at $65, upward to $330 for the Veuve Clicquot brunch package for two. Tickets can be purchased online at www.internationalpoloclub.com or by calling (561) 204-5687.
The tournament will feature a number of celebrity appearances. Liz Callaway and Ann Hampton Callaway will be on hand March 31. Brooke Eden and Bo Derek will attend on April 7, while Lauren Holly will be there on April 14. Antonio Sabato Jr., Cheryl Moana Marie and Lee Greenwood are scheduled to be there for the finals on April 21.
Maserati produces three lines of award-winning sports-luxury cars. All new for 2013, the four-door Quattroporte is larger, lighter and faster, with timeless style, an interior awash with Italian leather and fine materials. The GranTurismo Coupe and the GranTurismo Convertible are globally recognized for their elegance and capability. In each Maserati, four adults can travel in an abundance of space and handcrafted luxury, while race-bred engines and six-speed or eight-speed adaptive automatic transmissions deliver thoroughbred performance and the unmistakable Maserati exhaust note. Maserati automobiles and merchandise can be found at retailers across North America. Information on Maserati can be found at www.maserati.us or by calling (800) My-Maserati.
ABOVE: Famed actress Bo Derek will be at IPC on April 7 to attend the USPA Maserati 109th U.S. Open Polo Championship. PHOTOGRAPHY BY LILA PHOTO