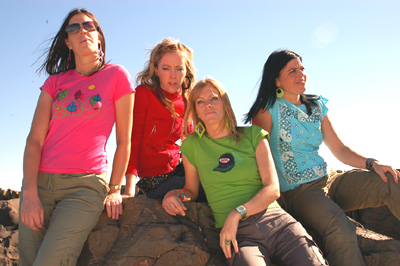 Irish Fest on Flagler returns for the 25th installment in downtown West Palm Beach featuring traditional Irish food, fun, dancing and great Irish music Friday, March 9 and Saturday, March 10.
This year's entertainment headline is an eclectic mix of traditional Irish music and dancing to edgy Irish rock bands that offer up a diverse mix of entertainment as unique as the Irish themselves. Headliners for this year's fest are the Screaming Orphans, Seven Nations, the Young Wolfetones with Derick Warfield, Paddy Noonan and Fire in the Kitchen. "We brought the Screaming Orphans back from last year by popular demand as they were a huge hit with the younger audiences," festival organizer Sheila Hynes said. "Adding in Seven Nations, a Celtic rock band utilizing bagpipes, targets the 20- to 50-year-olds who grew up listening to this music, so we have something for Irish music lovers of all ages."
The Screaming Orphans, four beautiful and high-spirited sisters from County Donegal, draw on diverse influences ranging from the Beatles and ABBA to the Cranberries. International attention came quickly for the girls when Sinead O'Connor took them on as her backup singers, and now these singing siblings are touring the world with their uniquely exciting concerts that reflect their Celtic roots but crosses many cultural boundaries. The Screaming Orphans take the stage on Saturday at 7 p.m. and again on Sunday at 2:30 p.m.
Seven Nations has been in the media numerous times, most notably during the Dewar's Scotch campaign ads, which featured a print campaign in over 20 major magazines, as well as use of the Dewar's tour bus during late 1999 to 2002. PBS also did a feature titled An Evening with Seven Nations, which was aired in the late 1990s. In the early 2000s, ESPN approached them to create the theme for their extreme sports show, which airs internationally. Perhaps the most successful media exposure, short of the Dewar's Campaign, was during the XIX Winter Olympic Games in Salt Lake City, Utah, where they performed in the torch-lighting ceremony. Seven Nations takes the stage Saturday at 5:30 p.m. and Sunday at 6 p.m.
In addition to the music, don't miss the always popular Noel Kingston, Tir Na Greine Irish Dancers, the Keltic Kids Korner, great Irish Marketplace and the best Irish food this side of Dublin, including bangers and mash, shepherd's pie, corn beef and cabbage, fish and chips and much more.
Irish Fest takes place at the Meyer Amphitheater, Datura Street and Flagler Drive in downtown West Palm Beach.
The festival runs Saturday, March 9 from noon to 11 p.m. and Sunday, March 10 from noon to 8 p.m. with a Gaelic Mass on Sunday at 11 a.m. Admission costs $5 per person and is free for children 14 and under.
For more information, visit www.irishflorida.org or call (561) 394-5121.
ABOVE: The Screaming Orphans take the stage Saturday at 7 p.m. and Sunday at 2:30 p.m.