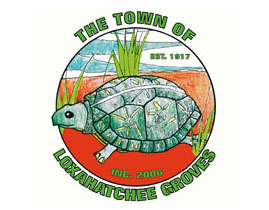 The Loxahatchee Groves Town Council decided Tuesday to discontinue proactive code enforcement on commercial operations after learning that Palms West Plaza, where the town's office is located, had drawn a dozen violations on various tenants.
Councilman Ryan Liang said he had asked for discussion of the proactive code-enforcement policy at the request of resident Howard Voren.
"I think we all need to take a long, hard look at what's going on," Voren said. "I was here at the meeting when the council approved code enforcement on commercial properties. However, the specific wording that I recall by [Town Manager] Mark Kutney was 'egregious' violations. You cut code enforcement loose, they're going to do what they want, and I believe they need specific direction."
Voren said residents were promised that the town would avoid the strident code-enforcement policies that are happening now.
"We were promised that when someone lodges a complaint, the code enforcement officer would go to that property and only look at what was complained about," Voren said. "They do not do that. They go there, and anything else that they notice at the same time, they cite as a violation. We were promised that was never going to happen, and it happens on a regular basis."
Voren added that residents were also promised there would be no anonymous code complaints allowed. "I got a list of the code-enforcement complaints, and there are some that are listed as anonymous," he said.
Specifically, the list of violations at Palms West Plaza has spiraled out of control. "There is a mechanic shop in the back that has been there for 20 years," Voren said. "It was cited for having inoperable vehicles on the premises. By nature, a mechanic's shop has to have inoperable vehicles on the premises. I doubt that there's anything cited there that's egregious."
Voren said the original discussion was to regulate manure and trash haulers who were dumping in Loxahatchee Groves illegally. "It wasn't to allow code enforcement to raid the plaza and write everybody up for everything they could find," he said. "This is completely against everything we were promised when we incorporated. All we are doing is hurting hard-working, honest people."
Councilman Ron Jarriel said that when the council had discussed going to proactive code enforcement, it was intended for health hazards or other dangerous circumstances.
"I always felt like if we do not have a complaint, then we need to leave it alone," he said.
Jarriel pointed out that a 25-foot storage container, which Al's Automotive was cited for, is in the corner of the lot where the owner stores his tools and does not impair ingress or egress. He added that the shop owner keeps his tools in the storage container so they won't be stolen, explaining that his shop has been broken into at least three times and that the tools are easy to take.
"I personally think we made a mistake by going proactive on commercial," Jarriel said. "I would like to see us back up and go back to complaint-driven unless it happens to be a health hazard or a danger to the community."
Jarriel added that he thought the U-Haul dealer in the plaza should not have been cited. "They may not be pretty, but they do not hinder my progress through the plaza," he said.
Kutney said a total of 12 violations had been issued at Palms West Plaza, including four that deal with storage and parking, one with disposal bins, one with landscaping, one with a fire hydrant and one with access. He added that some of the comments made were not accurate. He said the issue with Al's was with the storage area not being maintained.
"At various times I have talked to all of you," Kutney said. "All of you have indicated you had a problem with the center, so the town management and staff has done what you asked us to do. If you don't want us to go ahead and enforce the codes, that's fine; we won't enforce your codes."
He pointed out that Palms West Plaza has a development order from the county that the town is bound to enforce. "It goes back to 1988," Kutney said. "There are a number of provisions they are violating."
Mayor Dave Browning said he believed council members were caught by surprise at the number of citations against the plaza. "If there are problems, we need to give them more time at least," Browning said.
Kutney said he is scheduled to meet with the landlord to work through the issues.
Jarriel reiterated that it was not management's fault. "We have created a nightmare," he said. "All I'm saying is that going proactive commercial is not a priority."
Councilman Tom Goltzené agreed with Jarriel about not being proactive on commercial enforcement but added that it raises more concerns about the code.
"Once again it comes down to the ULDCs," he said. "If nothing is in compliance, then either everyone is an outlaw or we have some dumb laws."
Goltzené made a motion to discontinue proactive code enforcement on commercial operations, which it carried 5-0.
In other business, council members gave final approval for council members to receive $500 a month to help defray the costs of carrying out town business.