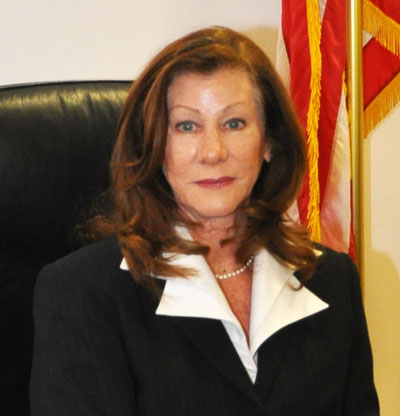 Royal Palm Beach Councilwoman Martha Webster is defending her seat in the March 12 election against a challenge from former Councilman David Swift.
The two veteran officials are facing off for a two-year term to Royal Palm Beach Village Council Seat 2.
"I think my record speaks for itself," Webster said. "I have been very involved. You have seen me be an advocate for the village and the programs that we do. As an elected official, you administer and you govern, but I also think there is some leadership involved. People need to see you, and they need to be comfortable being able to come to you to talk to you."
Webster first became involved in local government in 1986 as a member of the Greenacres Zoning Board. In that capacity, she first worked with former Royal Palm Beach Village Manager David Farber, who was then the manager in Greenacres.
After moving to Royal Palm Beach, Webster ran unsuccessfully for a council seat in 2006, before winning a one-year term in 2008. She has since been re-elected to full two-year terms in 2009 and 2011.
Upon her election, Webster was appointed representative to the Palm Beach County League of Cities, which she considers a great place to learn about government. "With the Sunshine Laws, learning really has to come from a different venue," she said. "I can talk to peers with no conflict of interest and hear them explain to me how they solve similar problems."
Webster is currently in line to become president of the League of Cities if re-elected. She also serves a leadership role on the Treasure Coast Regional Planning Council. "I feel as if this year is the culmination of a lot of investment in my work for the village," she said. "I can do even more than I have been able to by sitting on these boards."
Webster added that she is working on getting the village full membership on the Palm Beach Metropolitan Planning Organization, rather than sharing a seat with Greenacres. "We're always on the defense, particularly with regard to roadway funding," she said. "I have made a request, and it's being seriously considered."
As one of her top accomplishments, Webster points to getting a dog park included in the plans for Royal Palm Beach Commons Park, which she said had been discussed during workshops but did not make it to the final plans.
"I knew there was a desire for that, and the timing was great," Webster said. "It was just before the budget process, so that allowed me to bring it up at the right time."
She also initiated an amendment to increase allowable hedge heights from 6 to 8 feet. "We had many variances for people who wanted 8 feet rather than 6 feet," Webster said.
Webster also noted that she goes out of her way to serve the needs of residents. For example, this year she established office hours at village hall so people can come and share their concerns or desires. She does not see such initiative in her challenger.
"My feeling is that he has spent 20 years sitting on the council, diligently attending meetings and voting with the group of people he has been with," she said. "But do I think he's actively involved? I feel I have a passion for it I have not seen in him."
Over the next two years, Webster would like to put a focus on road repairs. "We had been doing one mile a year of resurfacing," she said. "I asked, and it has been upped to three miles per year."
She also wants to see the establishment of a senior living facility near Commons Park and a program to upgrade the village's canal system.
The top issue in the campaign, Webster said, is whether the village will continue to move forward. "Are we looking at the past or the future?" she asked. "I feel that I represent the future and moving forward."
Traffic woes continue to be an issue in Royal Palm Beach, even though the problem has improved in recent years. She said traffic can be improved by increasing connectivity between communities.
"That is the new approach for planning purposes," she said. "What they're trying to do is bring communities together, and when you have large freeways cutting right through the middle of towns, or very wide streets going through them, you're isolating communities. What they are trying to do is provide for more ways in and out."
Webster opposes urban interchanges or flyovers on Okeechobee Blvd. that have been discussed as an alternative to the completion of Roebuck Road to State Road 7, which she favors. She also supports a Madrid Street connection to SR 7, which was blocked when Swift, a La Mancha resident, was on the council.
"I get calls all the time that people want it open," she said. "The thought that there is a large majority of people who are opposed to this is not what I'm hearing. You have an isolated group of houses east of La Mancha who desperately want to get out of there. You have a group of people getting in their cars and traveling through the community going west to get down to a light to go east."
Webster believes that Village Manager Ray Liggins, who replaced Farber upon his untimely death, is doing fairly well. "I think that Ray is a different person, and he has different skills and different talents," she said. "He's a detail man, but I think he has done a good job."
Regarding the disposition of the former wastewater treatment plant facility off Crestwood Blvd., she said there have been rumors that she wants commercial development there.
"That is absolutely not true," Webster said, pointing out that she led a resident task force to look into the issue. "The wastewater treatment plant is 165 acres It is the largest asset we have. I got public input when nobody else did. I reached out. They came up with a plan, and that plan wasn't considered by the village."
She said that Aldi's decision to build a regional distribution center in the village will bring jobs and economic opportunity. "The good thing about Aldi was that we got a reputation for being a great municipality to work with," she said.
Webster recently ran afoul of other council members when as liaison to the Royal Palm Beach Planning & Zoning Commission, she wanted to replace some longtime members. The council refused to consider her recommendations and removed her as liaison. She said her recommendations were in keeping with village policy.
"Last year we had some very outstanding applicants," she said. "We had two members whose terms were up for renewal, and we had one total vacancy. I made a selection to make a recommendation, and unfortunately I wasn't even able to make my recommendation."
The issue extended over two meetings, and culminated with Webster trying to make her case and being silenced by Mayor Matty Mattioli.
"I very respectfully let everyone speak. They went through the process, and I am not the person who stood up and behaved in the manner they did," she said. "What I regret the most was the treatment that those people who, because I had recommended them, stood up in front of that council and faced public humiliation and bullying."
Swift is running a campaign that alleges that Webster is an impediment to the council. "I believe that there should be differences of opinion on the council," Webster said. "I don't believe we should be in lockstep. I believe that the public wants us to vet every question from every possible angle."
She said voters should choose her because she will work hard for residents.
"I'm going to go the extra mile, and then some," Webster said. "I believe in the village, and I believe we all have a place in the village, and I believe it's a place you can be excited about, not just a little box you go home to."
For more information, visit Webster's campaign page on Facebook.