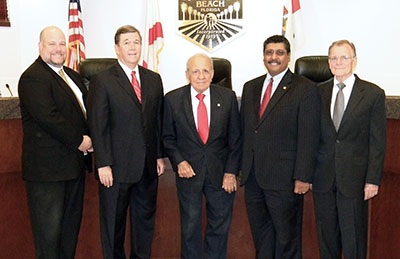 Royal Palm Beach Group 2 Councilman David Swift and Group 4 Councilman Fred Pinto were sworn in for their new terms during the council's annual reorganization meeting on Thursday, March 21.
At that meeting, Councilman Jeff Hmara was chosen as vice mayor. In other appointments: Hmara was named liaison to the Education Advisory Board, Swift was appointed liaison to the Planning & Zoning Commission, Councilman Richard Valuntas was tapped as liaison to the Recreation Advisory Board, Mayor Matty Mattioli was appointed liaison to the Central Palm Beach County Chamber of Commerce, Hmara was appointed voting delegate to the Palm Beach County League of Cities and Swift was appointed to the Western Communities Council.
ABOVE: The new RPB Council (L-R) Councilman Richard Valuntas, Councilman Dave Swift, Mayor Matty Mattioli, Councilman Fred Pinto and Vice Mayor Jeff Hmara.