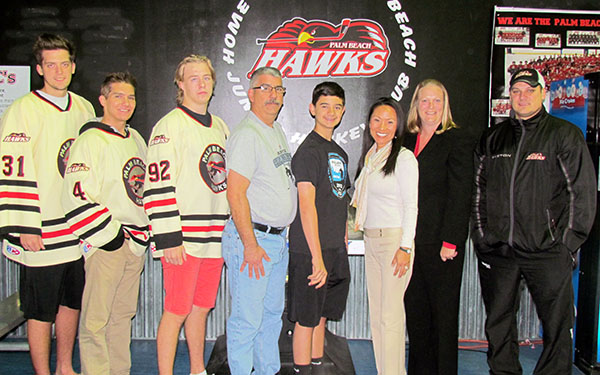 Florida is not often thought of as a popular region for ice hockey, yet the sport is steadily growing in popularity. Florida teams such as the Palm Beach Junior Hawks, based at Palm Beach Skate Zone in suburban Lake Worth, are beginning to become recognized in the tightly knit hockey community.
The Hawks, founded in 2009, are supported by a strong and growing network of hockey families. The players' ages range from 16 to 20, and they come from around the world for a chance to play hockey at the junior level.
While junior competition gives players exposure and a chance for universities and higher-tier divisions to notice them, it comes with a tough financial burden for many players who have to leave home during the hockey season from August through March. The costs of staying at a hotel or renting can get pricey for many of these young men, many still in high school or college-bound.
To assist players in their dreams of playing hockey at the professional level, the Palm Beach Junior Hawks implemented a billeting program in which players are placed with host families in the community they are visiting to play hockey, attend school and/or work. For many junior hockey players around the world, billeting is the best option when joining a team.
The Junior Hawks' billet program coordinators, Jill Schimming and Sam Berkman, work diligently to match players with the right families. "We have some families who say they only want goalies," Schimming said. "They feel that guys who play certain positions have qualities that they like."
The coordinators also give the players questionnaires to fill out. "I came up with it because we want to know what their interests are," Berkman said. "This really helps us with placing students with the right families."
Player Dennis Allingmon from Sweden remembers filling out the questionnaire. "I was as honest as possible and really wrote as much as I could," he said.
Being in the billet program keeps the players grounded and focused on what's important — family, school and hockey. "It's a better environment for me because it's kind of like having a mom or dad while away from home," Vincent Cook of San Francisco said. "Especially for a kid who hasn't been away from home before, it's a better feeling being around another family."
The program provides a support system for the players. "They take care of us like we are one of their own kids," Allingmon said. "They feed us and help us with whatever we need."
Schimming, whose family is hosting Cook, said each family has a different way of making the players feel at home.
"Different homes have different rules in terms of how much independence that the kid will take on," she said. "Like with Dennis, who is from Sweden, there's a cultural difference that he had to get accustomed to."
For Allingmon's billet mom, Shannon Phelps, hosting a player has been an interesting experience. "I truly believe that someday my children will want to play junior hockey," she said. "So for me, it's paying it forward."
Phelps has two sons who are on the Black Hawks, which is the children's hockey team. "If I take on that responsibility today, I will have a better understanding of it once my kids get to that level of play," she said.
The family has even helped out Allingmon by providing a car. "We had an extra car, which we let him borrow," Phelps said. "He pays for his own car insurance and gas, but other than that, he has free rein to do whatever he wants."
According to Cook, the Palm Beach Junior Hawks billet program is the best he has experienced. "The last place I've played was in Canada. The billet program there was really poorly run, and the parents didn't treat you that well," he said. "Jill is like a mom to me here. She really takes care of me and really helps me with not just food and laundry, but with issues off the ice."
With the players' busy schedules — practicing six times a week and playing two games a week — having fewer personal responsibilities to worry about gives them more time to focus on hockey.
"I feel more relaxed when I get home from the rink," Cook said. "I can enjoy myself more and not be so stressed and uptight about everything."
Stephen Sundberg traveled from Kansas City to play for the Palm Beach Junior Hawks. "We started the program two years ago with Stephen," Berkman recalled. "And we got into it first because my son has played the longest… and the boys are a positive role model for him."
Berkman remembered how surprised he was when, last March, Palm Beach Junior Hawks coach Tim Kyrkostas asked him to be one of the coordinators of the billet program.
"I had never done anything like this before because my background is in law enforcement," he said. "Luckily, while with the police department in New York, I specialized in logistics, which helped me with starting the program."
Kyrkostas does a lot of traveling around the country recruiting players for the team.
"We try to attract and find the best possible student-athletes in the country," he said. "Being one of the premier junior college development programs in the country, and having a stable and incredible billet program, with coordinators like Jill and Sam, and families like the Phelpses, is what I believe is a major a facet of making our program reach its goal."
Having a successful billet program makes coaching much easier. "The coordinators and families do a tremendous amount of leg work, making sure that these guys, who are coming from all over the world now, feel comfortable and acclimated to their new environment," Kyrkostas said. "This makes my job a lot easier as a coach, and I see a difference in these players."
Berkman hopes the billet program will continue on its path of becoming one of the most successful ones out there. "We hope this program becomes so successful that everyone wants to come here," he said.
The Palm Beach Junior Hawks play at Palm Beach Skate Zone, located at 8125 Lake Worth Road. For more info., or to get involved, visit www.palmbeachjrhawks.com or call billet program coordinators Sam Berkman at (561) 398-4114 or Jill Schimming at (561) 386-5865.
ABOVE: Palm Beach Junior Hawks billet program players Stephen Sundberg, Vincent Cook and Dennis Allingmon with program families Sam and Noah Berkman, Jill Schimming, Shannon Phelps, and coach Tim Kyrkostas.