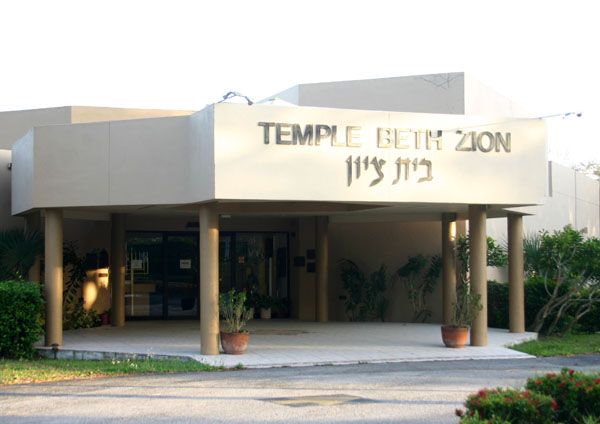 In a 3-2 decision last week, the Royal Palm Beach Village Council commissioned an appraisal of the Temple Beth Zion property.
The temple land, strategically located between Royal Palm Beach's municipal complex and Veterans Park, is up for sale. Temple officials announced last month that the longstanding Jewish congregation will merge with another temple in West Palm Beach.
While most council members agreed that owning the property would be a plus, several expressed reservations about dipping into village reserves to make the purchase.
At the March 7 meeting, Village Manager Ray Liggins said he had received a call from a temple representative offering to sell the site to the village.
"They are going to be leaving this facility and, knowing that we have property on either side of it, they asked if we'd be interested in purchasing the property," Liggins said. "There are some pros to buying it, and possibly some cons."
The property could be used as a parking lot for Veterans Park functions, which has limited parking now, saving the cost of operating a shuttle system, which the village does for major events at the park.
"It would also eliminate the potential development of 30 multifamily units there, or some other use that might conflict with the use of our amphitheater," he said. "The purchase opportunity exists now. If sold, the opportunity may not exist in the near future."
Liggins pointed out that the land use and zoning is for multifamily residences, and that if the property is purchased, the village will not have the opportunity to use it as a parking lot or for some other public purpose.
"There are some cons," he said. "Obviously, the property won't be cheap. It is in our urban center. They do have a price in mind that doesn't appear to be an unreasonable price, but it still is a lot of money. It is 2.5 acres. If we were to use it for parking, that would require demolition and construction costs. We would need to use reserves to purchase it."
Liggins also noted that with the opening of Royal Palm Beach Commons Park, events that require overflow parking might no longer be staged at Veterans Park.
"A lot of our community events that we were doing at Veterans Park, attracting 5,000 or 6,000 people, we'll be moving to Commons Park. Things like the Holiday Light-Up and Fall Fest will probably move to Commons Park," he said.
That leaves the future use of Veterans Park up in the air. "So, it couldn't be a worse time for us as far as identifying a use of Veterans Park," Liggins said, adding that if the village purchased the property, it would not collect any tax revenue from private development.
Liggins said that before deciding to purchase the land, the village will need to commission at least two appraisals.
"They are looking at more than $1 million for the piece of property," he said. "If the council is interested, you could direct me to move ahead with one appraisal to see if we are in the ballpark for what we would consider for purchase. If we're not in consideration of doing it, we can just kind of end this now and tell them to continue their marketing efforts elsewhere."
Mayor Matty Mattioli said he had discussed the possible purchase with Iris Rosenberg, the temple's president.
"They've told me they want to sell it to the village more than anybody else," Mattioli said. "I said that's fine, but that the price has to be reasonable."
Mattioli added that Rosenberg told him that the property would be offered to the village at less than it would go for on the open market.
"I would recommend that we proceed and see what kind of price we come up with," Mattioli said.
Vice Mayor Fred Pinto said he felt the price they were asking was way too high. "My understanding is that if the village acquired it, we would make additional parking spaces available?" Pinto asked Liggins.
"That's what our immediate need is at Veterans Park," Liggins said.
"I don't see paying $2 million to make a parking lot," Pinto said, asking how much an appraisal would cost.
Liggins said one appraisal would cost $1,500.
"I don't see spending $1,500 for an appraisal of property we aren't seriously looking at buying," Pinto said.
Councilman Jeff Hmara favored at least getting the appraisal.
"I'm assuming that since the title of the park is Veterans Park, we will continue with certain military-oriented kinds of celebrations there," he said. "I think there may be some value in determining… what that land is actually worth, whether it's used for the purpose of additional parking for Veterans Park, or some other use."
Councilman Richard Valuntas said he thought the time wasn't right to purchase more property.
"The top complaint I've heard about Veterans Park is the lack of parking," Valuntas said. "I've heard it numerous times, but I guess I come down on the side of Vice Mayor Pinto. I don't see pursuing that expensive of a property just to look at the immediate need being a parking lot, although it doesn't have to be a parking lot. We could do a bunch of things. Strategically, it makes sense to go down that route, but with Commons Park just opening, the timing doesn't seem right to me."
Councilwoman Martha Webster favored having an appraisal done.
"It is an essential piece if we want a big campus-like piece of property here," Webster said. "It would fulfill what we've got. I think the very nature of it being imbedded in what we already have is very important."
More parking would bring more use to the park, she added.
"I also don't know looking toward the future if the piece could be used for something else besides parking, but I don't think we'd really know unless we have an appraisal," Webster said. "I think that in this current economy that this is probably the time to consider it. It would be a better time now, and I think that this is a one-time opportunity."
Webster made a motion for village staff to get an appraisal done, which carried 3-2 with Valuntas and Pinto opposed.
ABOVE: Temple Beth Zion is merging with another congregation.