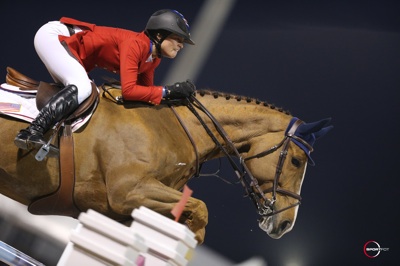 Week eight of the 2013 FTI Consulting Winter Equestrian Festival featured the $75,000 Furusiyya FEI Nations Cup last Friday and the Hollow Creek Farm FEI Children's, Junior and Young Rider Nations Cups last Saturday.
The powerhouse U.S. show jumping team of Kent Farrington, Reed Kessler, Laura Kraut and Beezie Madden earned victory in last Friday night's $75,000 Furusiyya FEI Nations Cup presented by G&C Farm. Teams representing seven different countries participated in the evening's competition, with a win for Team USA over Canada in second and Germany in third.
Friday's nights Nations Cup competition consisted of two rounds shown over a challenging course set by designer Anthony D'Ambrosio of Red Hook, NY. Teams of four represented the countries of Canada, Mexico, Ireland, Germany, USA, Colombia and Venezuela.
After the first round, each team dropped their highest score. In the second round, all seven teams returned in order of highest to lowest total faults. The winner was determined by the lowest total of each team's top three riders from each round.
The winning team from the United States was represented by Farrington aboard RCG Farm's Uceko, Reed Kessler and her Cylana, Laura Kraut and Cherry Knoll Farm's Cedric and Beezie Madden riding Abigail Wexner's Simon under the guidance of new Chef d'Equipe Robert Ridland.
In round one, Farrington had four faults while Kessler, Kraut and Madden all jumped clear rounds to lead the way into the second phase of competition. In round two, Farrington and Kessler each jumped clear rounds, Kraut and Cedric had four faults, and when it was determined that Team USA could not be beat, the team decided that Madden and Simon did not have to jump. They finished on a two round total of four faults for the victory.
The Young Rider Nations Cup was a close class, with teams USA and Canada coming into round two tied at the top, and the American riders taking the win. Colombia and Brazil also showed in the final round and finished third and fourth respectively.
The U.S. team, represented by Catherine Pasmore and Pasmore Stables' Z Canta, Mattias Tromp and Beyaert Farm Inc.'s Casey, Abigail McArdle and David McArdle's Cosma 20, and Liza Finsness and Ormsby Hilll, was coached by Chef d'Equipe Michelle Grubb.
McArdle and Cosma 20 put in the only double clear rounds for Team USA. Pasmore was the drop score of eight in round one, but came back strong to jump clear in the second round. Tromp had one time fault in the first round and five faults in round two. Finsness had four faults in round one and then did not have to return in round two after it was determined that their team could not be beat. Team USA finished on ten faults total.
The Canadian team finished in second on a 15 point total. Their riders included Bretton Chad aboard Santa Catarina LS, owned by Stone Ridge Farms LLC, Nicole Walker riding High Yummy, Amelia Vernon on Jaime Auletto's Udolente, and Kara Chad riding Alberto II, owned by Stone Ridge Farms.
The Hollow Creek Farm FEI Junior Nations Cup had six teams make it to the second round of competition with a win for Brazil. The teams of Brazil, Mexico, Venezuela, USA and Argentina all showed under the lights on Saturday night.
It was another close class as teams USA and Mexico each went into round two with four faults, Brazil with six and Venezuela with eight. Brazil scored the victory as three of their riders cleared the second round course, and they were able to drop one four fault score to stay on six faults.
The winning junior Brazilian team consisted of Carolina Drummond riding LaLa de la Hurie, owned by Madame Catherine Potin, Sofia Scheer riding Stoeterij Zangersheide's Levin Z, Giulia Scampini riding Constantino Scampini's Keep On Fighting, and Fernando Penteado riding Petit Paul de Beaufou, owned by M. Eric Levallois Et S.A.R.L Pilou. They were coached by Chef d'Equipe Caio Sergio de Carvalho.
Scampini was the only rider from Brazil's junior team to jump two clear rounds in the class. Drummond had four and four, Scheer had two time faults and then a clear round, and Penteado had eight and zero.
Carvalho also coached Brazil's children's team to a victory in the Hollow Creek Farm FEI Children's Nations Cup, where four teams were eligible to return for the second round. The teams from the United States, Venezuela, Brazil and Argentina were represented. In the end, it was extremely close between Brazil and Argentina, and Brazil took top prize.
The team from Brazil had only three riders compete in the two rounds of competition after one of their riders had to withdraw from the competition, so all of their scores counted. Their competitors included Siew Chiang Cheng riding Up to You, owned by Yuri M. Guerios, Laura Ramos Rait riding LF Ponderosa, owned by Lincon Goncalves Fernandes, and Vittorio Burger riding Yves Sportiello's Cheese Z.
Fourteen-year-old Ramos Rait and LF Ponderosa were the only pair to jump two clear rounds for team Brazil on their way to a win in the children's class. Ponderosa is an eight-year-old Finnish mare who Rait deemed, "the best mare in the world."
The children's team from Argentina was represented by Candela Oyarzabal riding La Pasion Arkansas Z, owned by Omar Gonzalez, Melina Vernengo riding Luis Vernengo's Nero, Manuel Chechic riding Hector Chechic's Margarita J I A, and Iara Veron riding Norit Larino, owned by Marcelo Luis Brandolino.
The Winter Equestrian Festival features 12 weeks of competition. For full results, visit www.showgroundslive.com. The Palm Beach International Equestrian Center is located at 14440 Pierson Road, Wellington. For more information, visit www.equestriansport.com or call (561) 793-5867.
Above: Reed Kessler rides Cylana during Nations cup competition. PHOTO BY SPORTFOT