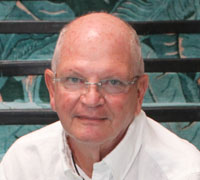 Another Delicious Reason To Visit Delray Beach!
The phrase "I'm going to the office" takes on a whole new meaning when you are referring to the Office restaurant in downtown Delray Beach. This inviting eatery is located in the center of Restaurant Row on Atlantic Avenue and diagonally across the street from its popular sister restaurant, Vic and Angelo's.
Both establishments have what has to be one of the best happy hours anywhere. So, you can start your visit to downtown Delray early — seven days a week, from 3 to 7 p.m. — and enjoy half-priced drinks and appetizers (at the indoor and outdoor bars). If you are a late-night person, the Office also offers half-price drinks at both bars from 10 p.m. until closing… so, maybe I'll see you at the Office!
Every restaurant has a reason or two that draws its regulars, and the Office has many, from its delicious, gourmet comfort food to the attentive service, to the warm, welcoming ambiance, and the tasty, handcrafted cocktails. One of my favorite drinks is named "Get Involved at the Office," which is the restaurant's signature martini. With fresh muddled raspberries, blueberries, lemon and pomegranate, this drink is truly yummy. If you are a beer lover, the Office offers draft and bottled beers from across the nation and around the world. When is the last time you had a beer from Jupiter, Melbourne, Boston, Downingtown, Long Island, Tampa, Boston, Belgium, Germany, Holland, France, Ireland or the U.K.? The Office has them all! The full bar, and the wines by the bottle and the glass, round out the wide range of libations.
Although most noted for its prime burgers — arguably some of the best burgers in South Florida — the Office has a menu that rivals and exceeds the competition. There are more than 30 starters, including very fresh and crisp salads, and their enticing, delicious fish, tuna and lobster tacos. A burger by any other name is not the Office Burger! Their house-made veggie burger is also superb, even if you are not a vegetarian.
The Office, a modern American gastropub owned by gifted restaurateur and entrepreneur John Rosatti, has recently debuted a new menu with a host of delectable dishes and refreshing cocktails.
Some of the newest dishes, made by chef Omar Montoya and his expertly skilled staff, include the Office Ceviche, comprising corvina in a mixture of fresh lemon and lime juice and yellow chillies, topped with sweet potato chips, and served on a bed of bibb lettuce; crispy, tempura-fried sea bass tacos with whipped avocado; the Office Grilled Steak Bruschetta, served on toasted garlic ciabatta; the Togarashi Tuna Steak Sandwich, seared sushi-grade tuna, enhanced with a finely ground mixture of spices, served with sliced avocado and pickled ginger on a brioche bun; the Free Bird Pan-Roasted Half-Chicken (this bird is served a vegetarian diet and is also free of antibiotics and hormones) served with loaded mashed potatoes (with bacon, scallions, cheddar cheese and sour cream), roasted baby carrots, and haricots verts; the Catch of the Day Open Face Sandwich (mahi mahi, salmon, cobia, corvina, etc.) served on ciabatta bread; and the Grilled Office New York Strip Steak, served over a cauliflower puree with wild mushrooms, crispy fingerling potatoes, and haricots verts.
The barbecue Chinese chicken wings are brined overnight, blanched in pineapple juice and Japanese spices, fried until perfectly crisp, and then tossed in a house-made barbecue sauce (composed of pineapple juice, garlic, ginger and Japanese spices) and served with green papaya Daikon slaw.
"These new menu items feature an infusion of flavors with plenty of textural diversity, along with elements of Asian and Southwestern cuisine, that will tantalize the taste buds of diners for lunch and dinner daily," General Manager David Panella said.
Panella noted that they also have retained some of the outstanding dishes on the menu that have endeared the restaurant to legions of loyal diners, such as the Prime Office Cheese Burger, made of a proprietary blend of natural ground prime Angus beef, served with butter lettuce, fresh tomatoes, red onions, pickles, aged cheddar cheese and Office sauce; the Fancy Fried Green Tomatoes, served with spiced shrimp; the ceviche-style tuna and lobster tacos, served in crispy shells; the shu-mai dumplings, with a mixture of chicken, ginger and scallions, served in wonton wrappers with Ponzu sauce; the Veggie Burger, featuring quinoa and a combination of tasty spices; the Southern barbecue pulled pork sandwich; the lemongrass-glazed sea bass; and the boneless country-fried chicken. The latter is double-dipped in flour, fried in buttermilk, and served with cheddar cheese grits and chunky sausage gravy.
Located at 201 E. Atlantic Avenue in Delray Beach, the Office serves lunch and dinner daily. The bar is open until midnight Sunday through Thursday, and until 2 a.m. on Friday and Saturday evenings.
Call (561) 276-3600 for reservations or information, and tell them the Phantom highly recommended that you call.
For additional information, visit www.theofficedelray.com.