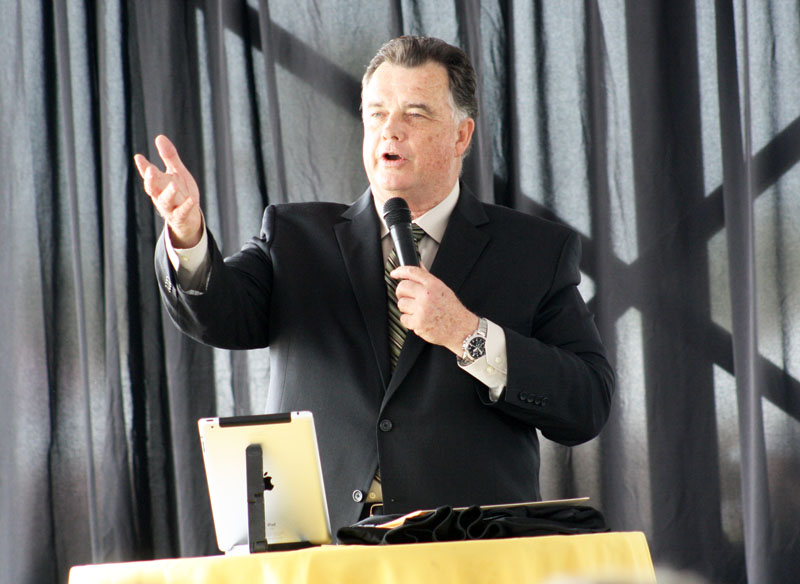 The Wellington Chamber of Commerce installed its new board of directors on Wednesday at a special luncheon held at the Palm Beach International Equestrian Center.
Victor Connor took the helm as the new president, and offered members a look at the success of the organization — something he attributes to the hard work of others in his position.
"I'd like to thank and admire all the prior presidents," he said. "You have, collectively, built the chamber, and I'm honored to follow in your footsteps."
Connor said that last year the chamber grew, offering more services to more members than ever before.
"Last year was one of our best years ever, and it was the result of the chamber working in full view and behind the scenes to promote economic prosperity in Wellington," Connor said. "Our name says it all, we are the Wellington Chamber of Commerce. The operative words are 'Wellington' and 'commerce.' If it affects Wellington, we are there to support our neighbors."
Over the past year, the chamber pushed for better business practices from Wellington, as well as advocated for the medical arts district.
"Last year, the chamber worked to give our members equal operating hours, as some businesses had special deals not available to all," Connor said. "We worked to keep the medical arts district alive, even though some announced it was DOA. We worked to attract new businesses in Wellington. We worked to keep our equestrian industry — the single largest non-governmental employer — strong and moving forward despite attempts to reverse its progress."
Connor said that the chamber would continue to support businesses big and small.
"Our laser focus is on preserving and promoting Wellington's economic prosperity — your prosperity," he said. "From sole practitioners to large corporations, from dentists to doctors, from dry cleaners to pool cleaning, from farriers to florists, from gas to groceries, from hair salons to horse supplies, from real estate to restaurants."
This is important for the entire community, he said.
"Without commerce, there are no jobs," he said. "Without jobs there is no one to create taxes, and without taxes there is no one to fund the village's activities, parks, improvements and services."
Connor said he hopes members will use the chamber as a resource and work to make Wellington a better place.
"We're here to help you, and we're here to help your business," Connor said. "Your success is Wellington's success. Wellington is more than just a bedroom community. We're a complete community — good for business, good for jobs and good for our residents."
The organization also honored three of its members with its Business Excellence Awards.
The Business Excellence Award was a tie between Florida Power & Light and Aesthetic & Family Dentistry of Wellington.
The Best Emerging Business Award went to Floridian Community Bank.
ABOVE: Victor Connor, the chamber's new president, addresses the crowd.