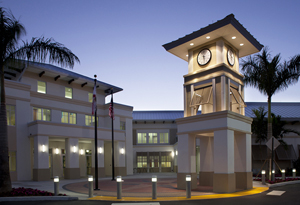 In an effort to level the playing field for local businesses, the Wellington Village Council gave preliminary approval Tuesday to an ordinance extending the hours of operation for businesses located near residences.
But the ordinance will still have to get yet another approval from the Planning, Zoning & Adjustment Board before coming back for final council approval.
As proposed, the rules would extend hours for all businesses within 300 feet of homes by one hour in each direction — from 5 a.m. to 12 a.m. instead of 6 a.m. to 11 p.m.
But it would also allow businesses to apply for an even greater extension of hours, including having a 24-hour business, Long Range Planning Director Tim Stillings said.
"Council directed staff to bring back an alternative to the current process for a business to receive extended hours of operation," Stillings said. "The current process is rather lengthy and cumbersome. The base application deposit is $3,000, which doesn't include cost for professional services."
In addition, Stillings said, businesses must go through a six-month process, which includes going before the PZA Board. "This special permit simplifies the application," Stillings said. "It reduces the fee to $500."
Existing businesses within 300 feet of homes would have 60 days to apply for the permit to bring their extended hours within code, but the fee would be waived, Stillings said.
Vice Mayor Howard Coates asked whether Wellington could grandfather in many of the businesses that have been operating under extended hours without approval since long before Wellington was incorporated.
"I have some trepidation exposing some of these businesses to a new risk," he said. "Some have been operating for years without enforcement."
But Village Manager Paul Schofield noted that just because Wellington didn't enforce its hours doesn't mean it can't. "They are exposed to risk now," he said.
Schofield noted that most of the issues caused by extended hours — such as noise and disturbances — had been dealt with through code enforcement. "The [limit on hours of operation] is there for troubled cases," he said.
Council members were also concerned about who has final approval of the applications.
The PZA Board recommended having two-tier sign off, and suggested the growth management director and village manager be responsible, but several council members pointed out that the change was not included in the application to the council.
Councilman Matt Willhite noted that the board specifically recommended two tiers to sign off. "They didn't want it to just be reviewed," he said. "Why was this not on here?"
Stillings said the language was included as a recommendation, not a two-tier approval process. "It would be a recommendation from the growth management director to the village manager," he explained.
PZA Board Member Marcia Radosevich called it a "misunderstanding" during public comment. "I think it would be prudent to send it back to the board for clarification," she said.
Council members asked why both couldn't sign off on it. "I'm concerned about the weight of this decision falling on one person," Coates said. "Spreading it out over two people makes more sense."
But Schofield said he was hesitant to be the final say on the applications. "Every application goes before a planner, that planner's supervisor and the growth management director before it gets to me," he explained. "I'm fine with being involved in the process."
Schofield also noted that under the new code, businesses would appeal a rejection of their application to the PZA Board. "To make it appealable to [the PZA Board], it has to be a decision of the growth management director," he said.
Instead, he suggested that the growth management director approve the application and send it to Schofield for review before a permit is issued.
Coates said that seemed reasonable.
"If these issues are not coming before the council, I want to feel comfortable that the top people in the village have looked at it and signed off," he said.
Schofield said he understood. "The permit cannot be issued until I give final approval," he said.
Willhite made a motion to approve the ordinance with the change, also requiring it to go back before the PZA Board before final approval. The motion carried unanimously.