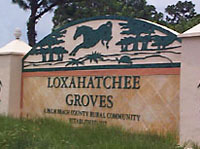 Grace Joyce, a professional planner and member of the Loxahatchee Groves Planning & Zoning Board, explained to Loxahatchee Groves Landowners' Association members at their meeting March 21 what would happen if the Loxahatchee Groves Town Council revoked approval of the planned Palm Beach State College campus.
A committee of town residents recently submitted a petition asking for a referendum on whether to repeal ordinances approving the campus site, also known as the Simon property, on the northwest corner of Southern Blvd. and B Road.
Although an initiative is permitted in the town charter, council members deemed the petition insufficient. Supporters of the referendum vow they will circulate another petition.
Joyce, who has been in planning for 15 years and works with the City of West Palm Beach, was the LGLA's invited guest speaker. "I'm not a developer," she said. "I've owned an acre of land in Loxahatchee Groves since 1989, and I love it for many different reasons."
Joyce said she has been following articles that have been written about the college and attended most of the meetings that led to approval of the campus. She believes that observers are missing one aspect of the issue.
"We became a town because we want to be responsible and in charge of what happens in our community, so we put into place what is called a comprehensive plan," she said, explaining that the plan creates the rules for how the town is going to be governed as it relates to the land.
The zoning code is more specific, with regulations on permitted uses and setbacks and building heights. When the town incorporated, the majority of its land was designated rural-residential, and the comp plan allows the development of public schools in those areas, she said.
"I am here just to provide information," Joyce said. "I am not on one side or another. I just truly believe that we don't understand completely what we're asking. Public schools are allowed anywhere in rural-residential land use, so a public school can go anywhere in the Town of Loxahatchee Groves."
She noted that the Simon brothers had received approval for commercial development on what is now the campus site before the town's Local Planning Agency was created.
"In 2011, they got approval, and I was at every single meeting speaking out against it because this was not consistent with our neighborhood plan," she said. "Our neighborhood plan said there should be no commercial in this area. It wasn't supposed to go west of C Road. I pointed that out countless times."
The approved uses included commercial retail, commercial low office and residential, with about 237,000 square feet of retail and office and 19 homes. "They never came forward with their final site plan approval," she said.
In 2012, the owners returned with an ordinance asking to rescind the previous mixed-use approval and revert to its original rural-residential designation, which would allow development of the campus.
Joyce explained that the council's approval allowed two different land uses. "The majority went back to what it was, and one small little area is now commercial low," she said.
In a second ordinance, the council enacted additional restrictions on the college to make sure that the town was included in any development changes that took place. "Because they are a state college, they only get funded incrementally, so it's not like they're going to develop the site all at once, she said. "Their plan was to develop the site over 50 years."
Every five years the college goes back to the state for financing, and explains what it has developed so far and what it wants to do in the next five years. The ordinance ensures that the town will be included in those discussions. "They have to come back to the town because of this ordinance, and talk about what the buildings are going to look like," Joyce said.
She explained that a referendum, if approved by a majority of voters, would revoke both of those ordinances, which would remove the special requirements for the design of the college and would change the land use from rural-residential and the small portion of commercial low, back to the mixed commercial/residential use.
"The college is allowed in this community because our comprehensive plan says so, so if the goal is to stop the college from coming in, you have to change the comprehensive plan," Joyce said. "The referendums are only going to prohibit the construction of the college, but allow for construction of what was originally 227,000 square feet of retail and office use."
Joyce said she would personally prefer a college campus to a commercial development. "As a person who has lived in this community since 1989, I believe that having a partner who is going to develop 76 acres over the course of 50 years, who is going to check back in with you every five years, [is better than] a developer who's in it for the money," she said.
Resident Nina Corning said that the comp plan was intended for the development of public schools such as elementary, middle and high schools, but Joyce said Palm Beach State College is classified as a public school, while development of a privately owned college would not be permitted.
Corning also pointed out that the 19 homes in the mixed-use approval would have served as a buffer from the commercial development to residents to the north, where the college is calling for the eventual development of about 650,000 square feet.
Joyce said that much of the college's development would be vertical and reiterated that it would be over the course of 50 years, where the college would be coming back to the town every five years to review its plans.
"This was a perfect example of transparency of opportunities for the community to come together," Joyce said, explaining that when the Local Planning Agency was finally created, she voted no on initial college applications. "I am a process-minded person. There are certain things that you have to do, and even though we may be calling ourselves 'government lite,' we are government. You're either going to run a town or you're not."