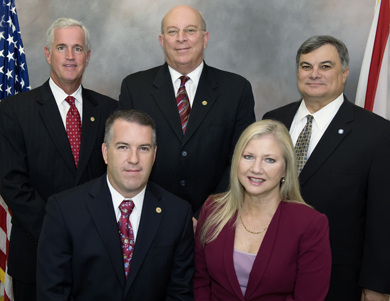 Wellington will develop its own legal department after members of the Wellington Village Council voted Tuesday to bring the position in-house.
Council members voted 4-1 to change from a contracted attorney to an in-house attorney. Councilwoman Anne Gerwig cast the dissenting vote.
"My hope is we can [hire a new attorney] by April 1," Councilman Matt Willhite said.
The vote came after a presentation by Chuck Thompson, executive director of the International Municipal Lawyers Association. Council members hired the IMLA last year to evaluate Wellington's legal options.
"When I interviewed each of you, I understood that what you were looking for was increased communications," Thompson said. "We also heard that you were looking for increased responsiveness on litigation and other projects."
Thompson said his firm compared Wellington's legal situation with others of similar size and scope to come up with a recommendation.
"In the history of your cost for legal services, from fiscal year 2007 through fiscal year 2012, you averaged $552,364 in legal services," he said. "Of that, an average $392,092 went to your attorney."
By comparison, Thompson said that most municipal attorneys in the area make between $130,000 and $217,000.
"That led us to considering a range for in-house city attorney for $150,000 to perhaps $175,000, in terms of salary."
Thompson said he recommends that Wellington hire both an attorney and a paralegal, and consider a second attorney in the future.
"An attorney and paralegal would bring you up to $309,000 in the third year for personnel salaries," he said. "The total legal budget with two attorneys and a paralegal would be $532,000 in year three."
For now, he felt Wellington could be served by a paralegal and an attorney.
"I think a staff of two would probably be all you need for this period of time," he said. "But what you see with experience is the possibility of adding an additional attorney. It would not be unusual for the size of the city that you have."
Thompson said that a municipality of Wellington's size often has a legal staff of five to seven staff members. "But you do not have some of the functions that other cities have," he said.
Gerwig pointed out that Wellington might still need other firms to handle litigation.
"Is that with the understanding that we would continue to contract out those high, intense cases?" she asked. "If we had those cases handled in-house, would you consider us able to function with one attorney and one paralegal?"
Thompson noted that Wellington had shifted its litigation. "I didn't look at whether you could handle the cases in-house because they were already being handled," he said.
Councilman Howard Coates, an attorney, noted that litigation was not necessarily something an attorney would have to deal with every day. "That's not something we can pretend to have control over," he said.
Coates said he was in favor of moving the attorney in-house. "I don't want to waste my time going down the outside counsel path when I feel that the sentiment of most of this council is that they want to go in-house," he said. "I'm prepared to accept the recommendation that we proceed to hire in-house counsel with one attorney and a paralegal, with a budget in the range of $482,000 to $535,000."
But Gerwig said she was concerned that the report didn't have a clear recommendation. "I find several different recommendations within [this report]," she said.
Coates pointed out that the majority of the council was interested in having an in-house employee.
"Now we need to focus our efforts on finding an in-house attorney," he said. "I know what the sentiment of this council is. Given this report, I think that's where our focus should be — finding in-house counsel that meets everyone's satisfaction."
Councilman Matt Willhite asked whether Coates wanted to stick with the report in terms of recommended salary and other points, but Coates said that wasn't necessary.
"I don't think the report takes away our ability to negotiate our own contract with whomever we hire," he said.
Interim Village Attorney Glen Torcivia recommended Coates make a motion to simply hire in-house counsel, rather than accept the report's recommendations.
Coates made the motion, which was seconded by Willhite.
But Gerwig was concerned.
"Based on the findings of this report, it seems to be more expensive to go in-house when you project it out," she said. "That is why I'm disagreeing, not just to be disagreeable. The report disagrees with it being cost-effective."
Councilman John Greene said that was not his interpretation and called the question, which passed 4-1 with Gerwig opposed.
Village Manager Paul Schofield said he hoped to have the council interview applicants by the end of March. "We will propose a couple of different methods for how you want to do the ranking process to decide who you will interview," Schofield said. "We'll have those to you before your next meeting so you can get to the process of doing interviews in the last half of the month."
ABOVE: The Wellington Village Council.