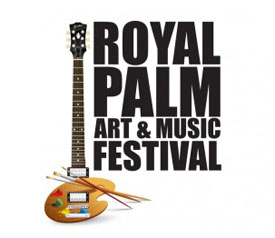 The fourth annual Royal Palm Art & Music Festival, produced by the Central Palm Beach County Chamber of Commerce, returns next weekend.
The festival will shut down Royal Palm Beach Blvd. between Southern Blvd. and Camellia Park Drive for the duration of the festival, set for Saturday and Sunday, March 9 and 10.
"We have kayak races, chicken wing–eating contests and the battle of burgers between city officials," the chamber's Maritza Rivera said. "The Palm Beach County Sheriff's Office and Palm Beach County Fire-Rescue will do demonstrations. We'll have street performers, fireworks and, of course, artists painting beneath our feet."
The festival is sponsored by the Schumacher Family of Dealerships with support from the Village of Royal Palm Beach.
Other attractions include carnival-style rides in the vacant lot next to the Royal Inn, bounce houses and crafts for kids, including their own street painting area, face painting, and street entertainers including jugglers, magicians and stilt walkers. There is no charge for admission. Unlimited ride passes can be purchased for $20.
"Three years ago, this event made history by being the first two-day festival to close down one of the western communities' major traffic arteries for more than the typical few hours," said Jaene Miranda, the chamber's CEO. "Since that inaugural festival, we have continued to expand our offerings, and our residents have responded positively. We have over 25,000 spectators expected to attend the event."
Two stages will feature local entertainers as well as two contestants from NBC's The Voice.
"This year we are excited to announce that Michaela Paige and Laura Vivas from the hit NBC show will be performing on stage," Miranda said. "In addition, the chamber is working with local volunteers to recruit both amateur and professional bands. Music provides the energy to any festival — it sets the mood."
Music will include jazz, blues, classic rock and country — a little something for everyone.
"We are most proud to present bands from our area schools," Miranda said. "Showcasing young talent is a critical component of this festival."
Other festival activities include the popular Pirates and Princesses Contest on Sunday, the chicken wing–eating contest, food vendors, a business expo, a pet contest, kayak races on Lake Challenger, edible artwork for the kids supervised by a professional chef, and two special tiki bar presentations by Tree's Wings.
As always, there will be a beer garden outside Tree's Wings in Royal Plaza.
Traffic will be rerouted onto Lamstein Lane and Camellia Park Drive, and parking for the festival will be off Lamstein Lane. Shuttles and buses will run throughout the festival.
The festival will open Friday, March 8 for just the carnival rides from 5 to 10 p.m. The full event will take place Saturday from 11 a.m. to 10 p.m. and Sunday from 11 a.m. to 7 p.m.
For more information on the Royal Palm Art & Music Festival, visit www.royalpalmbeachfestival.com or call (561) 790-6200.