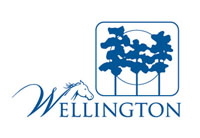 A horse park with a hotel and a hotel with a baseball complex are two ideas the Wellington Village Council might consider for the vacant K-Park property on State Road 7.
Village Manager Paul Schofield told council members at their meeting Tuesday that the two proposals had been brought before Wellington staff.
"We've had discussion with two people about the potential development of K-Park," he said. "One proposal is a hotel and conference center with a quadruplex that will do baseball tournaments — we're talking high school, travel teams and college tournaments."
The village had not yet received a site plan for that proposal, Schofield said.
"The other proposal was for a horse park," he said. "We had very preliminary meetings about this. It would have barns, paddocks, three covered arenas and a hotel and some retail associated with it."
The site would be for both English and Western riding, Councilwoman Anne Gerwig said, and could also include a veterinary school.
"Hopefully they would keep that moving forward," she said. "It wouldn't be the same as anything we have now."
Since Wellington purchased the property in 2004, development of the site has been a controversial issue. Schofield noted that there have been requests for proposals sent out, but Wellington got few results.
Schofield said he wanted to make council members aware of the new proposals.
"I have spoken with these folks enough that I needed the council to be aware of the situation," he said. "I need authorization on whether you want me to continue to have these conversations. If you're not interested, I don't want to go further."
But, he said, it couldn't hurt to continue to discuss options. "I think at this point you should continue to talk with them," Schofield said.
Gerwig agreed about opening up dialogue but also reminded Schofield that she had proposed a third option.
"I thought we could develop it ourselves," she said. "We could decide what we wanted — like a hotel and restaurants in the front — and then get enough income from that to provide whatever recreation we want there."
For a long time, some residents have asked for recreational space on the property.
"I understand that it's a huge piece of property," Gerwig said. "We can't afford to maintain recreation on the entire 65 acres. But I'd like to explore and see whether we could develop it, sell it and get enough income to maintain whatever recreation our staff thinks we are deficient in."
Gerwig noted that opening this discussion might bring in even more options. "I want to get all of the options out there," she said. "People watching at home probably have their own ideas. We probably opened Pandora's box."
Councilman John Greene asked whether Wellington had ever gotten involved in private development, but Schofield said it had not.
"We've not been successful with it," he said. "That's not to say no government has, but we haven't done it."
Greene said he thought generating interest in the property could be a good thing.
"If we've opened Pandora's box here, I don't think it's a bad thing," he said. "We have put this out there and gotten very little response in terms of a vision for this site. What I like, no matter which plan it is, is that these proposals are for a comprehensive site. We're not piecemealing it out acre by acre."
He also noted that Wellington isn't paying to maintain the land, which is currently leased to an organic vegetable farm.
"It's not costing the village to sit on the land," Greene said. "As values come back in the next year or two, it might be worth more. This is the last major site for development along our commercial corridor, so I want to make sure we do something valuable."
Councilman Matt Willhite said that Wellington is still paying out on municipal bonds on the property. "Where are we with that?" he asked. "It's a different story when the bond is paid in full; we are paying $40,000 a month to repay that bond."
Schofield said it should be paid off this year.
Council members directed Schofield to continue to speak with the interested parties.
Greene encouraged the community to look at the proposals, but be aware that they are still in the preliminary stages. "This is just conceptual," he said. "There could be multiple modifications if it moves forward in the process."
In other business, Schofield asked council members to set aside time to go through the 26 applications Wellington received for in-house legal counsel.
"We want you to pick your top five and send them to staff so we can make a list," he said. "Once that is complete, we would ask that the council convene a special meeting to evaluate the list and bring in the top three to five attorneys for interviews."
Willhite asked whether the interviews would be done as a council. "Will these be individual interviews?" he asked.
Schofield said they would be done as a council with individual candidates. "It would be one candidate at a time, opposed to a mass interview," he said.
Council members directed Schofield to begin the process and set up a meeting to review candidates.