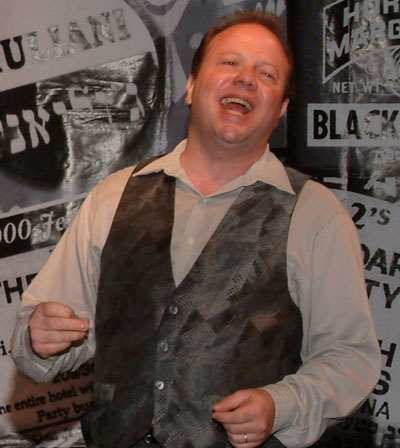 Award-winning actor, singer, author, raconteur and South Florida favorite Avi Hoffman will return to the Willow Theatre at Sugar Sand Park May 10-19 with Still Jewish After All These Years: A Life in the Theatre, a celebration of his life in show business.
One of South Florida's busiest and most popular actors, Hoffman has just completed a triumphant run in the Boca Raton Theatre Guild's production of Chicago, and is currently garnering rave reviews in Outré Theatre Company's An Illiad.
Accompanied by pianist Caryl Fantel, Hoffman will invite audiences on a casual and intimate tour of his multifaceted career and his extraordinary life in show business. Filled with songs and stories, reminiscences of performances, encounters with greats (and not-so-greats), Hoffman's Still Jewish After All These Years aims to entertain, move and resonate with everyone.
Hoffman has received national and critical recognition for his award-winning one-man shows Too Jewish? and Too Jewish, Too! (Performer of the Year, NY Press magazine; Best Actor in a Musical, L.A. Ovation Awards; and NY Drama Desk and Outer Critics Circle Award nominations). Both these shows have been broadcast nationally on PBS.
Hoffman's extensive resume includes groundbreaking productions of Songs of Paradise with Broadway impresario Joseph Papp and the New York productions of The Golden Land and The Rise of David Levinsky. Hoffman has performed all over the world, and has numerous theater credits and multiple Carbonell and Curtain Up awards and nominations. He is currently featured as lawyer Sid Raskin in the Starz TV series Magic City. He also appeared as Ted on A&E's The Glades and as Teddy Wayne on NBC's Law & Order, and was seen in the PBS documentary They Came for Good: A History of the Jews in the U.S.
The New York Times wrote, "The precious truth about Avi Hoffman is that his shows rest on a solid foundation of scholarship. Mr. Hoffman is a teacher and a dedicated preservationist of culture. But like so many sages, he disguises his lessons as entertainment."
NJ.com wrote, "Hoffman offers… a non-stop display of enthusiasm, a terrific delivery with jokes and an amusing way with a song."
The Boca Raton Theatre Guild is a not-for-profit organization dedicated to producing professional productions and advancing the art of theatre in the South Florida community.
All performances of Still Jewish After All These Years will take place in the Willow Theatre in Sugar Sand Park. The theater is located at 300 S. Military Trail in Boca Raton, just south of Palmetto Park Road. Show times are as follows: 2 and 8 p.m. May 11 and 18; 2 p.m. May 12 and 19; and 8 p.m. May 10, 16 and 17. Tickets for Still Jewish After All These Years cost $25 and are available at the Willow Theatre Box office by calling (561) 347-3948.
For more information about Still Jewish After All These Years: A Life in the Theatre or the Boca Raton Theatre Guild, visit www.avihoffman.com, www.brtg.org or www.carolkassie.com, or contact Carol Kassie at ckassie@gmail.com or (561) 445-9244.
ABOVE: Avi Hoffman will perform May 10-19 at Sugar Sand Park's Willow Theatre.