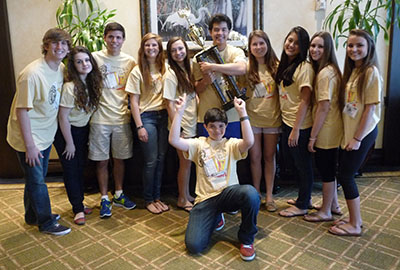 The Benjamin School in Palm Beach Gardens is proud to announce their Conferencia team captured first place at the Florida State Spanish Conference (FSSC) annual world language tournament held March 14-16 in Orlando.
Benjamin's Upper School Spanish students competed with 11 schools (Division I Category 3A) throughout Florida in three oral categories at the 2013 academic tournament, including a Spanish play performance, impromptu speech and poetry recitation.
All 16 impromptu speeches earned the highest category of "Sobresaliente," and each member of the championship team received individual trophies for their outstanding efforts.
Five of the six poetry recitings also earned "Sobresaliente" trophy awards. The team's 15-minute play performance of El Mocito de Galleta earned a perfect score, and senior Isabelle Haddad's vocal performance of "Il Vito" at the conference banquet earned a third-place trophy award.
"The students were highly motivated and did an excellent job at the tournament, which is an entire oral competition," said world language faculty member Montserrat Arpa, who accompanied the team along with faculty members Ivette Casiano and Sara Salivar. "We were thrilled with how well the team represented the Benjamin School at the state level."
The Benjamin School's Conferencia team includes: seniors Isabelle Haddad and Carolyn Quigley; juniors Riley Burke, Kayla Casasus, Morgan Kaplan and Gabriel Lama; sophomores Nicholas Castriz, Caroline Downey, Benjamin Greenspan, Carolina Haddad, Alexandra Murray and Julia St. Amand; and freshmen Caterina Breuer, Annelise Hillmann, Derek Packer and Katie Walsh.
The Benjamin School, a pre-K3 through grade 12 independent school, has a curriculum focusing on college preparatory education. For over 50 years, the Benjamin School has inspired its students to develop a coherent set of values that include love of learning, personal responsibility, self-motivation, concern for others and a commitment to serve society. More information about the Benjamin School can be found at its web site, www.thebenjaminschool.org.
ABOVE: The Benjamin School Conferencia Team (L-R) Derek Packer, Katie Walsh, Nicholas Castriz, Caroline Downey, Alexandra Murray, Gabriel Lama, Caroline Quigley, Annelise Hillman, Caterina Breuer, Carolina Haddad and (front) Benjamin Greenspan.