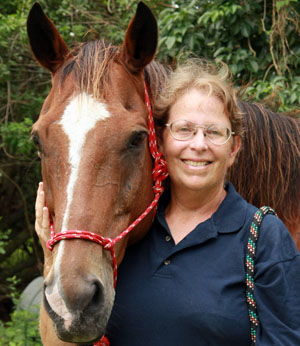 TAILS FROM THE TRAILS
You couldn't have asked for better weather. Friday evening, March 29, was mild, neither too hot nor too humid. The gale-force winds that had roared across South Florida earlier in the week had quieted to a comfy breeze. All of which served as a perfect setting for the British Feed Company's grand opening at their new location at 14589 Southern Blvd., Loxahatchee Groves, in the Palms West Plaza.
The store sits between Kabayan Oriental Mart and La Hacienda Restaurant, making for an interesting international enclave. There were tables and chairs set up along the sidewalk and in the parking lot. The festivities got under way at 4 p.m. with a ribbon-cutting at 5 p.m. There was a bounce house and pony rides (on two horses) for the kids or whomever, live music by Big Dick and the Extenders, food, snacks, soda, wine: a friendly, relaxed community happening.
The place was nicely packed. Some came just for the food, others to scope out the store. Nancy Fried-Tobin from the Good Earth Farm was there, supporting the new store while promoting her own Loxahatchee Groves rescue group. She had brought along some used tack and riding clothes and set up a small booth so people could browse.
"We love the British Feed Company," Fried-Tobin said. "We're proud they're here. It's about time they had a real store."
"I came out to show my support for the new store," said Jim Legg of Palm Beach Gardens. "I used to ride with Loring, and I worked for Tim at his last store. They're both good people, and this is a fun event. If anyone's looking for an honest businessman selling good products, this is the place to go."
Tim and Loring Hart-Woods are the married owners. They've had a bit of a rough time finding a home for their business. Previously named the British Hay Company, this is their third, and hopefully permanent, location.
"We had quite a few problems with Loxahatchee Groves code enforcement," Tim said. "We had a location on Okeechobee Blvd., then one on Southern Blvd. We were chased around the town, but now we have our license and some forward momentum. Thanks to our loyal customers, the grand opening is going remarkably well."
The store itself was packed, people wandering past stacks of 50-pound bags of Nutrena feeds. The interior was painted a bright fluorescent green — "It used to be a hydroponics place, and we haven't gotten around to repainting it," Tim explained — with some fun old western movie posters along one wall. British and American flags fluttered here and there.
In addition to seven different varieties of hay ranging from $10.95 to $24.95 a bale, stored in nine semi-trailers on the undeveloped lot next door, the store offers shavings, a full line of Nutrena horse feeds, Total Equine horse feed, and food for a variety of other critters: pot-bellied pigs, catfish, chickens, dogs, cats and rabbits. There's also a limited inventory of supplements, horse treats, wormers and equine health aids. The store offers free delivery. Store hours are 10:30 a.m. to 6:30 p.m. Monday through Saturday, and 10:30 a.m. to 3 p.m. on Sunday.
Dr. Harry Anderson from Weatherford, Texas, had a booth set up in the store, handing out brochures and explaining why his Total Equine was a superior feed.
"I am Total Equine," he said. "It's my own company, owned and operated by my wife, son and myself, a truly American small business. Our feed is the most digestible horse feed on the market."
Mike Quebebeaux from West Palm Beach agreed. He keeps his horse at a barn on C Road in Loxahatchee Groves.
"It's the best feed," he said. "I believe in that feed totally. It's unbelievable. I'm glad Tim's selling it. I've been buying hay from him, and we've gotten to be friends. I'll absolutely buy my feed here."
Nancy Rogero, a vet-tech with Palm Beach County Animal Care & Control, is also a longtime regular customer of the British Feed Store. She owns five horses.
"This is a convenient location," she said. "I like the friendly atmosphere, reasonable prices, and the free delivery is a huge plus."
Tim and Loring Hart-Woods wandered through the evening's crowd, chatting with friends and well-wishers.
"We are so thankful for all of our customers," Loring said. "We're not a supermarket-type store with a gazillion-item inventory. We want to provide just a few necessary items, products we believe in that are worth their price. We'll add a few items as we go, if people request them, but we want to stay small and responsive to our customers. That's who we're here for."
For more information, call (561) 633-6003 or visit www.thebritishfeedcompany.com.