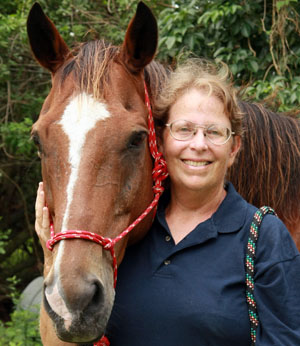 TAILS FROM THE TRAILS
Pam LiVecchi, owner of Desert Rose Ranch, cares passionately about horses and people. I first met her at a Palm Beach County Mounted Posse show and was immediately impressed with the barn's overall atmosphere. She had quite a few horses and students in a variety of classes, and the trainers worked with both horses and riders in a sane, supportive way, reviewing mistakes, offering suggestions; no hollering, no negative comments. Win or lose, the kids rode out of the ring happy and confident.
"I want the kids to see showing not as an entitlement, but as an honor and a privilege," LiVecchi explained. "It shouldn't be someone handing them a horse, they ride, then someone else takes care of the horse. They have to do it all — grooming, tacking up, warming up, walking out. And they should be thankful to have the opportunity to do it."
Nice, I thought.
A month later, I finally made it up to the ranch itself, a 20-acre spread in Jupiter Ranch Colony containing six barns, a large, lighted ring, round pen and spacious pastures. The 28 school horses, ranging from beginner-level safe mounts through horses showing at the Winter Equestrian Festival, and 15 boarders looked fat and happy, as did the two dogs and 22 rescue cats; no rats or mice!
There's a lot of cheerful pink in evidence: helmets, saddle pads, shirts, Adirondack chairs, even two golf carts. "That's our color," LiVecchi said. "We love pink."
Three full-time trainers were busy teaching and training. There were 25 scheduled lessons the Saturday I visited: private, semi-private and group in hunters, jumpers, equitation, dressage and western pleasure.
"My trainers have good personalities. They get along with kids, adults and the owner," LiVecchi explained. "I like trainers who emphasize safety, have patience but no big egos, can ride well and make learning fun. Everything here's a team effort. We all work as a team."
In addition to selling and leasing horses, Desert Rose attends local shows, offers camps, an adult horsemanship riding program, Friday night riding under the lights, trail rides, beach rides, birthday parties and fox hunting with the Palm Beach Hounds.
Nancy Marinoff of Palm Beach Gardens and daughter Grace, 7, found Desert Rose through word of mouth.
"I like everything here," Grace said.
"It's a tranquil, peaceful place," her mother agreed. "The trainers are super-patient. Hearing the kids giggle while riding makes my heart happy. It's upscale without the attitude."
That is by design.
"Everyone works together and helps each other here," LiVecchi said. "Children, moms, adult riders. No cliques. No one leaves here unhappy."
Riders range from younger than 5 to older than 90.
"I was skeptical when Sy first called," LiVecchi recalled. "That's kinda old to be riding, but he knows what he's doing. He rides three times a week, and is practicing his dressage test."
"It's the best place I've ever seen," said Sy Budofsky, the 90-plus rider. "In my view, it's the best venue I've ever seen — an ideal place."
That view was enthusiastically shared by Katie O'Brien from North Palm Beach, who was there with daughter Brenna, 11.
"They're wonderful," Katie declared. "We've been coming since December, and we love it. It's horse people teaching horse people. Everyone speaks horse. We've both made a lot of friends here. We always look forward to coming out. It's a real friendly place."
LiVecchi also has a program called Horseshoes for Rescues. "The children paint and decorate used horseshoes, then sell them. All the money collected is donated to local animal nonprofits. It's our way of giving back. I also donate items like lesson packages for silent auctions."
Everyone is welcome to come out and spend some time here, whether they ride or not. "Even if they just want to walk around, take some photos, watch the horses or feed a carrot," LiVecchi said. "I want everyone to have the opportunity to enjoy and share in the world of horses."
LiVecchi hopes that Desert Rose always stays a happy place.
"My heart is in this. There's nothing I wouldn't do for these people and horses," she said. "I want Desert Rose to be the place I dreamed of a kid, a Disney World of horses. A happy place with a good aura, the best possible place anyone who loves horses could want."
I'd say she has succeeded.
For more information, visit www.desertroseranch-fl.com or call (561) 779-5206.