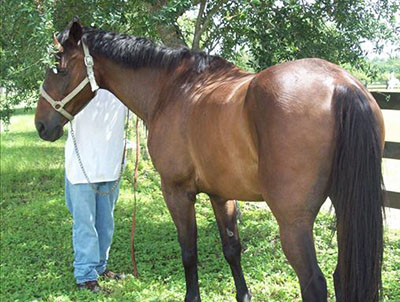 BY ALEXANDRA ANTONOPOULOS
Athletes and spectators alike know that it is never easy to get back into the saddle after being sidelined by an injury, especially one that leaves a rider permanently disabled. After a crippling accident and an 11-year hiatus from riding, Lori Gilman Gailbreath, a dressage rider from Pennsylvania, is ready to make a comeback in her beloved sport, and hopes to make a difference in the life of a local horse named Roamer.
Gailbreath, who began riding at the age of six, fell in love with dressage early on. "It is the perfect communication between horse and rider," she said, citing dressage as a longtime constant in her life.
In 1996, after years of training, Gailbreath had built the technique, endurance and mental stamina to begin to work toward her goal of becoming an international competitor on the United States Olympic Dressage Team when she suffered a life-altering injury while training to qualify for the games.
The trauma affected her right leg and ankle, and relegated the former Sydney Olympics hopeful to a cast for over a year. Unable to even walk or swim for exercise, it seemed to Gailbreath that the golden window of competitive opportunity had passed her by.
"It was a devastating time for me," Gailbreath recalled. "I lost my horse as well as my trainer and was completely unable to ride, much less compete. I began to lose all hope of reaching my dream."
The magnitude of her injury meant that Gailbreath had a long road ahead of her if she was ever going to entertain the idea of riding again. After being diagnosed with poly-osteoarthritis and early-onset rheumatoid arthritis, Gailbreath now suffers from limited range of motion in her joints and weakness in her hands.
The physical and emotional pain of her injuries persisted for years, and without the ability for a quick rehabilitation, Gailbreath hung her Olympic dreams up for what seemed to be the final time.
It was not until 2007 that her competitive spark was rekindled. After nearly 11 years away from dressage, Gailbreath — now a member of the United States Para-Equestrian Association — began working horses at Victory Stables in Apollo, Pennsylvania, where she had recently relocated. With the support of her new barn, Gailbreath made a cautious return to riding. Soon she decided it was time to purchase a horse of her own.
There are always many things to be considered when a rider searches for an equine partner, but for a disabled rider, there are even more restrictions and precautions to take. "It has to be the perfect horse, really," she said. "I was looking for a safe, third-level schoolmaster when I found Roamer."
At 20 years old and 16 hands high, Roamer is a bay Dutch Warmblood living out his days at the Good Earth Farm in Loxahatchee Groves. Nancy Fried-Tobin, owner of the farm and Roamer, said that when she heard Gailbreath's story, she thought Roamer was just the horse she needed.
"My heart went out to her," Fried-Tobin said. "Roamer loves to rise to the occasion, and I thought he would be a great fit for what she wants to do."
With a long career in various events, Fried-Tobin had confidence that Roamer was the horse that could move Gailbreath toward her new goal: the 2016 Paralympic Games in Rio de Janiero, Brazil.
Fried-Tobin has offered Roamer to Gailbreath for a small adoption fee of $850 and the cost of transporting the horse to Pennsylvania. She said that Roamer is a sweet-natured horse that would love the action of training for the Paralympics, and that through this partnership both he and Gailbreath can shine. Not only will Gailbreath get a second chance at competing, but Roamer, too, will be given another shot at greatness. "He's had a long career, but he's not old!" Fried-Tobin is quick to point out.
Gailbreath is now responsible for covering his adoption fee and the cost of transportation but, for a disabled rider with other medical expenses, the upfront costs will require more than just Fried-Tobin's kindness.
"I am reaching out to the horse community and beyond with the hopes that a little help will go a long way," Gailbreath explained.
Her goal is to raise $2,000 to cover all up-front costs and to bring Roamer to Victory Stables. All donations that are made to help unite Gailbreath and Roamer do double duty, as the adoption fee allows the local farm to save another animal in need.
Donations may be made at Gailbreath's page at www.youcaring.com or through her web site at www.lorigilmangailbreath.com. Donations can be made anonymously, if the donor chooses. Any amount will help Gailbreath and Fried-Tobin in their efforts to elevate two athletes — one equine and one human — both waiting for a shot at their second chance.
ABOVE: Roamer, the rescue horse Lori Gilman Gailbreath hopes to adopt.