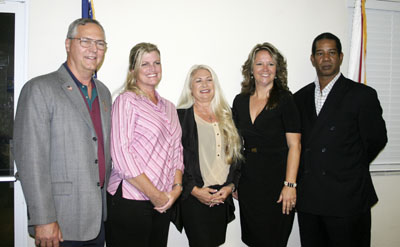 The Indian Trail Improvement District Board of Supervisors unanimously agreed Wednesday to oppose a proposed shopping center at the southeast corner of Northlake and Coconut boulevards.
Agent Marie York said the applicant plans to apply for a land-use amendment with Palm Beach County that would change the land use from agricultural residential of one home per 20 acres to a multiple-use planned commercial development.
The parcel, to be called Coconut Palm Plaza, would include a 2,300-square-foot convenience store and gas station with 12 pumps and 24 fueling positions, a 3,100-square-foot fast-food restaurant with a drive-through, a 3,500-square-foot bank and a 15,000-square-foot pharmacy with a drive-through, as well as 13,000 square feet of other uses, for a total of 12 tenants with almost 38,000 square feet of commercial use. The site had previously received approval for a post office.
In other community meetings, uses suggested by residents had included a hay and feed store, a sit-down restaurant, a medical clinic, a fitness center and a Dunkin' Donuts. "We kept asking what they would like to see if it was to be developed," York explained.
York said Wednesday's ITID presentation was the fourth meeting with local groups. Most recently, a presentation was made to the Acreage Landowners' Association on Monday. Like ITID, the ALA unanimously rejected the proposal.
The owner/developers of the site are Jorge and Chantal Segurola, who currently own a gas station in West Palm Beach. The request for the land-use change was submitted to the county on Feb. 1.
York said environmental concerns were foremost from members of the community. She said the gas station would have concrete pads because concrete would not allow seepage into the water table.
"If there is a gas spill, it evaporates in about 10 minutes," she said, adding that a switch would shut down all the pumps if an emergency comes up, and the fuel storage tanks will have double walls to reduce the likelihood of leakage into the aquifer. "They're made of fiberglass so they don't rust and they're maintenance free."
Land planner Jon Schmidt said the applicant is applying for a large-scale land use amendment, but the land remains low-density residential currently.
"We really went out to the community to get some feedback and not come here with a site plan saying this is the end-all and be-all," Schmidt said. "We got a lot of feedback, and we'll come back with a revised plan."
He said the current site is 11 acres, but the parent tract has more than 33 acres, with 60 percent of that put into a preserve. The commercial use would have only about 7.5 percent building coverage on the property, Schmidt noted.
The center would have ingress/egresses on Northlake and Coconut boulevards, and an exit-only on Hamlin for the convenience of local residents.
Schmidt said the architecture would be rural with lap siding and metal roofs. The center would have a 70-foot green space along Northlake Blvd., 15 feet on Coconut and 40 feet along Hamlin.
"We tried to preserve a majority of the vegetation that's on the property and get it to fit in with the rural nature of the neighborhood," he said.
Supervisor Michelle Damone pointed out that one commercial development had already been approved for that intersection. She felt a second one would not be appropriate. "You already have one commercial center at that intersection on the west side that is in the process of developing. To take two commercial impacts to that intersection in this community all at the same time is not the right thing to do," Damone said. "Even if we were to consider something like this, just where you located that gas station tells me you don't understand this community. You put that gas station on the south side of the property where all the residential homes are."
Damone said the Northlake Corridor Study will protect The Acreage from this proposed development. "My suggestion to you, since you are open to suggestions, is to go back and consider a civic use for it and bring that option back," she said. "But at this time, I will not support this, and when that project goes downtown, I will make sure I'm there opposing it."
Supervisor Ralph Bair said he would also oppose it. "We have enough empty buildings around in the area," Bair said. "Even if times were good, I can't see another commercial venture like that on that corner."
Supervisor Carol Jacobs said the project would bring traffic issues in the area. "That area already had traffic problems," she said.
"I oppose it, too," added Supervisor Gary Dunkley. "We are on wells. Our aquifer is very delicate. I fought putting up the Publix gas station."
ITID President Jennifer Hager said she had moved to The Acreage to be far away from town. "The gas station is where you run into most of your opposition," she said. "We just don't really want to see anything there except trees."
ABOVE: The ITID Board of Supervisors.