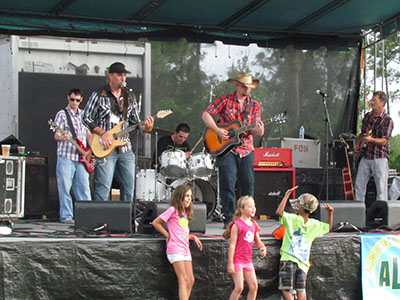 The sixth annual Acreage Music & Chili Cook-off will bring the community together for a day of good food, music and entertainment. The event takes place Saturday, April 20 from 11 a.m. to 10 p.m. at Acreage Community Park. The cost to enter is $10 for adults and $5 for children 10 or younger. Active-duty military personnel and those under 3 get in free.
The cook-off is sanctioned by the International Chili Society (ICS), which means the people who win at the event automatically gain a spot at the world championships at the end of the year.
More than 50 contestants will be competing in the chili cook-off this year, and that number has grown every year since organizer Robert Trepp started the event. "I originally wanted to just do a concert in The Acreage — an event that everyone could come out to," he said.
Although there are many clubs and organizations in The Acreage, Trepp felt that there wasn't anything that attracted and brought together all groups in the community. "I wasn't seeing any single event where everybody would come together, and I thought a music festival would do it," he said.
After learning at the time that the Indian Trail Improvement District was canceling its chili cook-off, Trepp decided to include one at his music festival. "I figured I could do a chili cook-off along with the music festival, and no taxpayers' dollars are being spent," he said.
The chili cook-off has grown tremendously since its inception. "When we first started, nobody knew us," Trepp said. "We were a brand-new ICS event. We were what they call a district, meaning if you won, you didn't go to the world championships — you had to win another event in order to go."
The event has since been upgraded to a regional competition. The cook-off has four categories contestants can compete in: red chili, green chili, salsa and people's choice. The winners receive plaques and cash prizes, in addition to qualifying for the championships. ICS judges determine the winners in each of the first three categories. "I also worked to get some local people approved to be part of the judging," Trepp said.
One of the most popular categories is people's choice, in which members of the public are able to vote for their favorite chili. "There are no judges for that, and the winner gets to go to the championships," Trepp said.
In order to vote, people must buy a $5 sampling kit.
"Then they can go around to every single chili cook and try their chili and vote," Trepp explained. "At the end of the day, we tally up the votes and announce the winner on stage."
Being that it is a regional competition, contestants in the Acreage Chili Cook-off are highly competitive and determined to win.
"We have had numerous winners of the Acreage Chili Cook-off who have made it to the final round of the world championship," Trepp said. "We have had somebody even come in second, but none of our entrants have won the world championship yet."
The world championship includes hundreds of competitors from around the globe. "To get to the final 20 is a great accomplishment," Trepp said.
For entertainment, the event brings national and regional musicians to The Acreage. This year's festival will include performances by American Music Award nominee The Lost Trailers, national artist Kristen Kelly and local band County Line Road.
The Chili Chicks, two-time Country Dance World champions, will also be performing. "We started the Chili Chicks just to promote the Acreage Chili Cook-off, and that has worked out really well," Trepp said.
The event will also include bounce houses and games for children, various food vendors, local performers throughout the day, a buggy and custom truck show, and Renegades West Palm Beach will also have a dance tent for people who want to learn how to line dance.
Acreage Community Park is located at 6701 140th Ave. N. For more information, visit www.acreagechilifest.com.
ABOVE: Local band County Line Road performs at last year's festival.