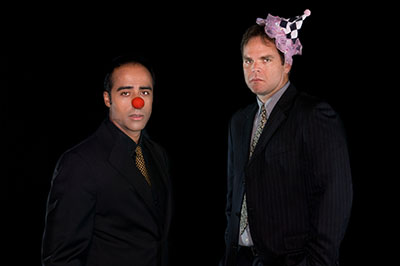 The Jove Comedy Experience will perform Death, Taxes & Other Funny Things on Saturday, April 6 at 8 p.m. at the Atlantic Arts Theater in Jupiter. The show is a blend of improvised, sketch and musical comedy with audience participation.
The Jove Comedy Experience is one of South Florida's longest-running improv and sketch comedy troupes with over 65 original theatrical productions to their name. They have performed all over South Florida from high-end corporate events for companies such as Bass Pro Shops, PGA National and Martin Memorial Medical Center to opening up for famed improv troupes the Groundlings and Upright Citizen's Brigade.
Members of the troupe have been featured in statewide commercials for national food chains, appeared on network television shows, performed on and off Broadway and have been seen in the national and local theater scene for the past 22 years.
In 2009, Jove Comedy Experience was awarded best in show and top prize at the Addy Awards for seven commercials. New Times has called them "the A-Team of comedy" and the Stuart News touted them as "the funniest guys you've never heard of!"
If laughter truly is the best medicine, then the Jove Comedy Experience has been curing what ails South Florida for the past seven-plus years.
Formed in the fall of 2004, the Jove Comedy Experience has been spreading the comedic gospel from charity events to sold-out shows at the Atlantic Theater, forming what could be called the most unique comedy experience in South Florida.
Shows offer audiences written sketch comedy similar to what you might find on Saturday Night Live, to live audience participation where cast members get suggestions from the audience and create a comedic suggestion from one word, similar to Whose Line Is it Anyway? Shows also include song parodies and video sketches, offering a unique blend of high-energy entertainment.
Tickets cost $15 per person and can be purchased by calling the Atlantic Theater Box Office at (561) 575-4942 or by visiting www.theatlantictheater.com. The Atlantic Arts Theater is located at 6743 W. Indiantown Road in Jupiter.
ABOVE: Frank Licari and Jesse Furman of the Jove Comedy Experience.