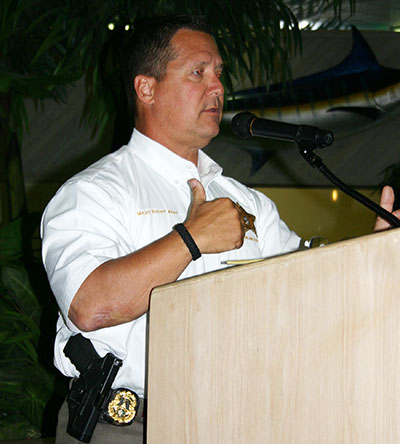 Palm Beach County Sheriff's Office Maj. Robert Allen, head of the PBSO's Homeland Security Division, discussed his agency's response to the Boston Marathon bombings at a community forum sponsored by County Commissioner Jess Santamaria at the original Wellington Mall last week.
Speaking just 48 hours after the bombings, Allen said he'd had only about three hours' sleep since the Monday, April 15 attack, which left hundreds injured and three dead.
"We've been monitoring the events in Boston closely, and if you wonder why we're monitoring the events of Boston so closely here, I'll just remind you of where the pilots came from on 9/11," Allen said. "You can see the connection here in Palm Beach County to any event like this in the nation."
Allen said he believes the Boston police did the best they could under the circumstances, patrolling a race route 26 miles long with more than 300,000 spectators. "You have to make just one mistake, and you see what happens," he said.
Allen said that his boss, Sheriff Ric Bradshaw, has built one of the most robust security bureaus in the state, supported by a number of government grants and financing.
"Sheriff Bradshaw is now the chairperson of the Southeast Regional Domestic Security Task Force," he said. "That takes in much of the state security funds to bring them back to our county to better secure our area."
In addition, the South Florida region, which includes Miami-Dade and Broward counties, is designated as an Urban Area Security Initiative, which also brings federal money.
The southeast region is one of 77 UASIs recognized in the country. "We are fortunate to be one of them," Allen said. "If you picture how big this country is, we're one of 77. That's a lot of money to our area here to help out."
Allen himself chairs the Law Enforcement Response Committee of the task force, which also ties into federal grant money.
"A lot of the equipment that we use — a lot of our camera equipment, surveillance equipment, things that we deploy remotely around the county for specific events — were purchased with grant funds," he said.
The county's Homeland Security Bureau operates on a $27 million annual budget, with more than 300 personnel. Resources at its disposal include the aviation unit, K-9 unit, bomb and riot squads, and the SWAT team (one of the largest in the state), as well as crime intelligence and analysis units.
"You can see how many people that involves and how many people come under the major of homeland security," he said.
Allen said that Bradshaw has organized a grant program that draws federal financing to South Florida, which broadens his responsibilities to those areas. "It's his responsibility to be not just accountable to Palm Beach County," Allen said. "He has to see a much bigger, global picture."
There are 13 agencies that keep a full-time detective in Washington, and Southeast Regional Domestic Security Task Force is one of them, which gives instant connectivity with the rest of the world.
"When events like Boston take place, we get all the confirmation of the news wire, which a lot of times is pretty accurate," he said. "If you're watching the Boston Marathon live on television and you see an explosion, it doesn't get any faster than that to get the word out there."
Like Southeast Florida, the Boston region is another of the 13 agencies with a direct connection in Washington. "The connectivity was instantaneous," Allen said, adding that his agency was immediately on high alert, reading everything worldwide, to make sure there was no connection to Palm Beach County.
Allen said residents can help by inquiring into two of the nation's best recognized citizens groups, active in Palm Beach County: the Business Partners Against Terrorism and Community Partners Against Terrorism.
He encouraged residents to more closely observe for occurrences that might be considered unusual, and not hesitate to inform law enforcement of what they've seen.
"Imagine how many families brought coolers, lawn chairs, backpacks, a change of shoes to the marathon?" Allen asked. "You can walk around, set it down, maybe walk away among three or four hundred thousand people."
The bag with the bomb, clearly depicted in photographs collected after the explosion, did not look out of the ordinary to the untrained eye. "It was a very innocent-looking bag," Allen said. "I'm sure it was one of a thousand bags that was on the ground at the time, but if someone had seen someone place that bag down and walk away from it, would you tap the nearest cop you see in uniform?"
ABOVE: PBSO Maj. Robert Allen speaks Wednesday, April 17 in Wellington.