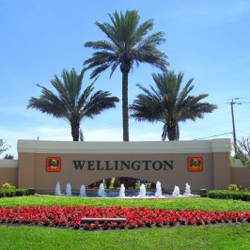 Members of the Wellington Village Council got more details this week about a horse park proposal eyed for the K-Park property at the intersection of State Road 7 and Stribling Way.
At Monday's agenda review meeting, local businessman Jack Van Dell proposed a "world-class" resort on the site that would include a hotel, veterinarian training facility and stadium that could double as a civic facility.
Van Dell spoke as a representative for the yet-unnamed group who has put together the plan. He asked council members for a letter of support and assistance in securing state and federal funding.
"This site is the entrance to Wellington's horse community," Van Dell said. "It's the best place to put this."
As not to take away from Wellington's other equestrian venues, the horse park would cater to Western riding — notably the American Quarter Horse Association (AQHA) show circuit, and also intercollegiate competition.
"When I first came here 35 years ago, there were a lot of quarter horses," Van Dell said. "But as the English shows expanded, there was not room enough to keep them going and they left. They are ready to come back, and they want a proper facility."
Van Dell said that Wellington's equestrian community is currently a "half circle."
"We have a complete and wonderful English show circuit, but we have zero [Western] shows," he said. "There are more than 800,000 people in the AQHA. The difference is astronomical."
In Loxahatchee Groves and The Acreage alone, Van Dell said there are more than 3,000 AQHA competitors, and they ride year round.
"They are a completely different group," he said. "They will travel during spring and summer. They are here 12 months a year. This would extend the season for us."
The new venue would complement the Palm Beach International Equestrian Center and Equestrian Village, Van Dell said.
"Putting another large horse facility in Wellington won't take away from existing venues, it will do the exact opposite," he explained. "It's the same theory as when Home Depot and Lowe's put their businesses next to each other. Everyone who wants to buy a hammer will go to that area. The more horses we have in Wellington, the more horses we're going to have in Wellington."
To accommodate year-round riding, the facility would have three covered arenas, as well as an enclosed, air-conditioned stadium that could fit 4,000 to 5,000 people, he said.
"It would be able to host any horse event from rodeos to horse shows," Van Dell noted. "We could hold two to three horse shows simultaneously. There would also be a farriers work area and trailer and RV parking."
The stadium could also house other events. "We've been talking with the local chambers of commerce, and they would be able to hold conferences, trade shows or anything else," he said.
The stadium would be built to hurricane shelter standards, and would accommodate people and animals. Additionally, the barns on site would provide a hurricane-safe place for the equestrian community.
Van Dell also noted that there is a desire for an American international riding school, similar to those found across the world.
"There is no wonderful place to come and learn to ride in the U.S.," he said. "It will be the world's best riding school. We'll invite professional trainers and riders from all over the world to come on a year-round basis and partake. I expect it to be quite an addition to the whole concept."
Van Dell envisioned weekly sessions with 30 to 40 riders coming to train, staying in the hotel and then competing on the weekends. The stadium would include a private club house for members of the riding school.
He also said that his group wanted to reach out to Wellington residents, who would have the opportunity to come and get exposure to the equestrian world. "Some will want to come and ride, others will just come and bring their families," Van Dell said.
A key piece to the property would be a 130-room hotel that will be built and operated by the same owners of the Hampton Inn on Forest Hill Blvd. "They are committed to the project fully," Van Dell said.
Another much-desired element would be a veterinarian facility. Van Dell said several universities — including Auburn University, which toured Wellington this week — had shown interest.
"This would be a clinic or teaching facility," he said. "There would be dormitories for students on site, and the hotel operators have been kind enough to say that they would take care of housekeeping in the dorms."
Van Dell said the site would be about 80 percent recreational and civic, and 20 percent retail and restaurant.
"We'd have about 30 shops and restaurants in the middle to high end," he said. "Western riders need different clothing, boots and equipment. We have interest from some local shops and some from out of state who would open up another place down here. There are two or three major restaurants who want to open up."
He also proposed a performance hall with space for 200 to 500 people.
The project, he said, would have tremendous economic impact on Wellington.
"There would be many permanent operating and supporting jobs," Van Dell said. "This would be 15 to 20 businesses, all working with each other. It's not like putting together one business."
Van Dell said the next step would be for council members to draft a letter of intent to support the project, and requested assistance from the village's lobbyists to help secure funds for development.
"We will talk to a lot of other people once we get a commitment from the village saying they'd like to see this project go forward," Van Dell said.
Council members were largely in support of the proposal, but requested more details.
"What is appealing to me is the comprehensive nature of this project," Councilman John Greene said. "I didn't want to see the site pieced off and sold."
Councilwoman Anne Gerwig was concerned about funding the project, but Van Dell noted that the specifics would have to be ironed out once more details are set.
"First we have to have your support," he said.
Council members directed staff to continue talking with the group and set the item on the agenda for more discussion.