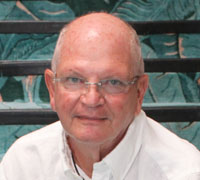 BY JOE NASUTI, THE PHANTOM
Zorba the Greek, starring Anthony Quinn, was one of my favorite films of all time, and Zorba's Taverna is one of my favorite Greek restaurants. It is not often that I am blown away by every morsel of food that I taste, but wow! Zorba's Taverna is an incredible dining experience.
For a true, authentic taste of Greece, local residents and visitors should head to Zorba's Taverna, a wonderful new eatery that opened in Delray Beach on Dec. 26.
Owned by gifted chefs Bobby Orfanos and his father, Tasso Orfanos, along with Bill Maxakoulis and Danny Marke, Zorba's Taverna features delicious Greek cuisine in a casual setting. This talented group is dedicated to serving soul-satisfying Greek dishes, along with a side of warm hospitality, for lunch and dinner, daily.
The biggest surprise was their lamb chops — without a doubt, the best I have ever tasted. While I was there I met other diners who told me that they come to Zorba's weekly, just for the lamb chops. I look forward to my next visit!
Repeat diners are the key to any restaurant's success, and Zorba's has a growing core of loyal customers who are packing this eatery nightly. What makes it even better is that this is a family business with a father (Chef Tasso Orfanos) and his son (Chef Bobby Orfanos), who are both passionate about creating delicious dishes from their family recipes, which have been handed down (and perfected) from one generation to another. The result is amazing Greek food.
Chef Bobby Orfanos, who grew up cooking in his father's restaurants in Manhattan, previously owned several pizzerias in New York City for 15 years, before moving to sunny Florida. He was the opening/executive chef at Taverna Opa in West Palm Beach, and he also cooked at Taco Vida in West Palm Beach.
Chef Tasso Orfanos owned the Greek seafood restaurant the Delegate, along with several pizzerias in New York City, for 30 years. After moving to Florida, he worked as the executive chef at Mykonos in Boca Raton for five years.
Bill Maxakoulis started his career as an attorney, prior to deciding that he liked the restaurant business better. Restaurant veteran Danny Marke previously worked at Taverna Opa in West Palm Beach and Ouzo Blue in Lake Worth.
The Orfanoses, Maxakoulis and Marke have created an expansive menu filled with mouth-watering, house-made Greek dishes, for lunch, dinner and in-between snacks. There is an emphasis on fresh ingredients, with many items imported from Greece to ensure that every dish is memorable. Furthermore, all diners who come to Zorba's Taverna any time of the day receive a bowl of house-made hummus, along with triangles of warm pita bread, gratis. During dinner, every diner receives one glass of Greek wine — on the house — with a choice of white or red vintages.
There is more to Zorba's than the world's best lamb chops. Standout starters here include house-made spanikopita (spinach pie), with layers of light phyllo dough; an array of yummy house-made dips, including taramasalata (caviar), tzatziki (yogurt) and melitzanosalata (eggplant); house-made dolmades (stuffed grape leaves) with vegetarian and meat varieties; char-grilled octopus from Greece; and saganaki (flaming cheese with Cognac). It would not be Greek without the Greek salad, and it is really fresh and delectable, thanks to a combo of greens, green peppers, tomatoes, onions, olives and fresh feta cheese, with their house-made dressing of vinegar and extra virgin olive oil.
Enticing entrees include Greek specialties, such as pastitsio (Greek lasagna), with layers of Greek pasta and baked seasoned ground beef, topped with Bechamel sauce; moussaka, comprised of baked eggplant, tomatoes, potatoes, ground beef and cheese, topped with Bechamel sauce; lavraki (Mediterranean sea bass, which is flown in from Greece every other day) served with dandelion greens and lemon potatoes; domestic lamb shank, which is braised and then cooked in a tomato sauce and served with orzo; Shrimp Zorba, which features jumbo shrimp sautéed with chopped tomatoes, feta cheese, spinach, extra virgin olive oil and herbs, served over orzo; grilled local yellow tail snapper, served with lemon potatoes and dandelion greens; and those incredible char-broiled domestic lamb chops, served with lemon potatoes and green beans sautéed with tomatoes and garlic.
There is a variety of shish kebabs — chicken, beef, lamb and shrimp — which sing, thanks to being marinated in a wonderful blend of extra virgin olive oil, lemon, garlic, salt and pepper. These skewers are served with peppers and onions over a bed of rice pilaf and veggies.
All of their yummy sandwiches are served in warm pita bread, with a choice of French fries or a house salad. Some of the noteworthy choices are the falafel sandwich, comprising grilled chick peas; the gyro, filled with lamb and beef, with lettuce, tomatoes, onions and tzatziki sauce; the skirt steak sandwich, with mushrooms and onions; and the grilled chicken sandwich, with lettuce, tomatoes and tzatiziki sauce.
No visit to Zorba's Taverna would be complete without one of their decadent, house-made desserts, such as baklava (with walnuts and honey baked in phyllo dough); cheesecake baklava; pistachio baklava; galaktoboureko (a creamy custard-filled pie); rice pudding; and Greek yogurt with honey and crushed walnuts.
Zorba's Taverna serves eight Greek wines by the glass or by the bottle, along with several beers, including Mythos (from Greece), Heineken and Corona. They also serve bottled water, along with a variety of soda.
The interior design at this inviting restaurant features colorful, hand-painted murals. While one wall sports Zorba the Greek, another features the island of Santorini, which just happens to be one of my favorite places to visit. White marble tables are surrounded by black chairs with comfy cushioned seats.
The convivial atmosphere is enhanced by Greek music, which plays overhead, except on Friday and Saturday nights, when diners are entertained by a musician playing the bouzouki and singing popular Greek songs, starting at 6 p.m. The outdoor patio also features a pretty painted ceiling, reminiscent of the sky, and the outdoor walls feature trompe l'oeil windows, along with an array of tables and chairs.
Zorba's Taverna is open daily from 11 a.m. to 10 p.m. It is located at 4801 Linton Blvd. (at the northeast corner of Military Trail) in the Delray Town Center shopping plaza in Delray Beach. For more information, call (561) 381-7411 or visit www.eatzorbas.com.