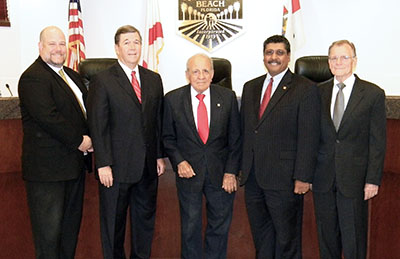 After three years of uncertainty over the future of the decommissioned wastewater treatment plant site on the village's north end, the Royal Palm Beach Village Council decided Thursday, April 18 to pursue a low-density residential use for the 150-acre area.
The plant was decommissioned and became surplus property when the village sold its water utility to the county. Since then, the council has considered several ideas for the property.
An early plan suggested using the land for a commercial office business/research park, which drew widespread opposition from residents who live in the area. A plan for largely residential use also got shot down by residents, who said they wanted more input on what would be done with the site.
In April 2011, the Wastewater Treatment Plant Task Force was formed, made up of residents and led by former Councilwoman Martha Webster. After several months of meeting, it recommended that 55 percent of the site be single-family residential, which would allow 207 homes at 2.5 units per acre; 25 percent recreational; 10 percent industrial; and 10 percent commercial, with the industrial and commercial uses being low-intensity uses such as RV and boat storage and education centers. Thirty percent of the land had to have natural areas for recreational use.
At last week's meeting, staff requested direction to explore a low-intensity, single-family land use designation for the site. As a condition of plat approval, the developer would agree to dedicate land for park or recreational purposes, pay an appropriate fee, or both, at the option of the council.
"A single-family land use designation is generally considered a low-intensity land use," Planning & Zoning Director Bradford O'Brien said. "A single-family land use designation is compatible with the existing land development pattern of the area, and a single-family land use designation will present an opportunity for additional parkland in this area."
The only speaker during the public hearing was County Commissioner Jess Santamaria, original developer of the Saratoga community adjacent to the site. Several members of the task force were present.
"Tonight I'm speaking as a 39-year resident of the Village of Royal Palm Beach," Santamaria said. "Good things happen when you listen to your constituents who voted you into office. Royal Palm Beach was voted one of the 50 best cities in the entire United States by Family Circle magazine. That didn't happen by accident."
Santamaria said the quality of life in the village came about as the result of good decisions by the council with sometimes vociferous input from constituents.
"Some of you will remember that the Madison Green Golf Course was initially considered for 300 homes," he said. "Your constituents strongly opposed turning the golf course into a residential development. After several years of urging by your constituents, you finally made the right decision and decided to leave it as a golf course."
Santamaria said the golf course enhances not only Madison Green but the entire village.
Santamaria also lauded the council for its decision to purchase to old Tradition Golf Club and redevelop into the new Royal Palm Beach Commons Park.
"Again, there was a constant attempt by developers to build homes, but again you listened to your constituents, and because you listened, you made the right decision."
Santamaria said the council again has an opportunity to listen to its residents in deciding the fate of the old wastewater treatment plant site. "We expect you to make the right decision," he said, pointing out that the attempt to convert the site to an industrial/commercial complex was met with opposition from more than 100 citizens headed by resident Diane Queller.
"You allowed me to speak before you then, and again you listened to your constituents and you held off the possibility of making a big mistake by converting this into industrial/commercial in the midst of residential," Santamaria said. "That would have been a huge mistake. Now you have the opportunity to again make the right decision and convert that land into an area that is going to be compatible to the immediate adjacent area, in particular the Saratoga development."
Santamaria added that he would like the council and staff to follow the models of the surrounding community by developing in at least quarter-acre lots rather than zero-lot-line homes, apartments or condominiums. "I hope you make it a very low-density community that blends with the surrounding area," he said.
Mayor Matty Mattioli agreed with Santamaria's comments.
"I think Diane [Queller] remembers very well when we had a meeting and people were hanging from the ceiling," Mattioli said. "We postponed it, and it's back again. In this past year, I have had only one person tell me that they wanted anything but single-family homes. I'm glad that the year passed and people calmed down a bit. I think they realized that single-family homes are the only thing that will ever be compatible or make all the people happy."
Vice Mayor Jeff Hmara, a Madison Green resident who served on the task force in 2011, said compatibility in that area has been the primary concern of residents.
"I remember asking our county commissioner, 'OK, we seem to have gotten the word across. How do we make sure that it plays out the way that we intended?' and he said, 'Stay involved.' I don't think he said, 'Stay involved for three years,' but we're still involved, and I look forward to this playing out as truly compatible with the area."
Councilman Fred Pinto said it's an easy decision. "Clearly, we have heard from the community on what they'd like to see there," he said.
As far as marketing the property for residential development, Pinto said that he hopes to wait until the real estate market recovers to maximize the village's benefit from the sale of the property. "Ultimately, when it gets to some site plan level, hopefully we will see some open-space park included," he said.
Pinto made a motion to pursue a low-density residential land use, which carried 5-0.
ABOVE: The Royal Palm Beach Village Council.