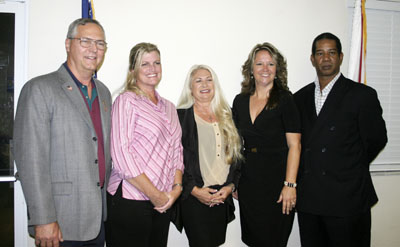 After hearing much public input about the future of the Acreage Community Park expansion at its April meeting, the Indian Trail Improvement District Board of Supervisors has placed the item on its agenda for Wednesday, June 5.
After the flooding from Tropical Storm Isaac and the subsequent outrage from residents, some of whom were stranded in their home for a week, the ITID board decided in September 2012 to put its plans to build a community center on hold until it resolved the flooding issues.
But at its last meeting, the board heard requests to continue plans for park improvements, although input was divided as to whether residents wanted the community center first, or other amenities which include a splash park, athletic fields, and hiking and equestrian trails.
"The conversation was to decide whether to proceed with Phase 1, which includes the community center, or Phase 2, which is basically the amenities," ITID Administrator Tanya Quickel told the Town-Crier on Monday. "There are some other options, but those are the two that we will be discussing."
The item was set for June at the request of Supervisor Michelle Damone, who is not going to be at the May meeting.
At the April meeting, Acreage Athletic League officer John Meredith presented a petition with about 400 signatures asking that community park plans be renewed.
"It has been about two or three years since the board has been going back and forth talking about it," Meredith said. "The board has been flip-flopping going back and forth on certain issues. I just want to know if we are going to get some sort of community center in the near future, whether it's Phase 1 or Phase 2 or Phase 3. This community does deserve a community center."
Resident Bob Sommer said he did not want the park expansion project killed because there were matching grants tied to it that the district could lose, and the community center would be a positive thing for the community.
Resident Linda Knox asked supervisors to take a trip to Commons Park in Royal Palm Beach. "They have something for everybody there," she said. "The children need a splash park. They need something to do in the summertime."
Supervisor Gary Dunkley said he had met Knox at the Commons Park opening and said he was impressed with the park, but felt ITID had to set priorities. "The park is important, and I feel the community center should be second," Dunkley said.
Resident Nicole Walker said she agreed that the district needs to prioritize, but it needs something for its youth and elderly. "A community center must be a priority in my book," she said. "I heard in school next year they may be cancelling art. This is something a community center could provide our children to enrich their lives. From summer camps to after-school programs, with both parents working these days, if you have more than one child, how do you come from work, go pick up a child at elementary, go pick up a child at middle school and then drive to Royal Palm to try to make their lives better to enrich them? It doesn't work. It's so important that it not be put on the back burner."
Dunkley said he also wants a community park, but flood prevention is more important. "I understand that we need a community park, but we need to build up our infrastructure first so we can have homes for the kids to go home to," he said. "As a community, we have to prioritize and go with what we can afford."
Supervisor Ralph Bair said it had been established in the budget that flood control and park expansion could be done simultaneously. "We're working for both drainage and the park," Bair said. "It's not something that we're foregoing one to get the other."
Damone added that funding is available for both. "That's our job to think outside the box," she said. "I also wanted to point out that the splash park is sort of attached to Phase 1, and if there was enough funding, we would go ahead and do that, too."
Resident Geoff Grafton said he favored the community center. "It keeps our kids off the street and keeps them into good habits," he said. "Our community has gone through some very challenging and negative issues in the past couple of years… It's about time we did something positive. You as a board need to do the right thing, which is stop listening to the small group of people who come to these meetings and start listening to the community as a whole."
ITID President Jennifer Hager said except for Dunkley, who was recently elected, the other four supervisors are aware that they have promised a community center. "We went through all the processes to say we're going to do this," Hager said. "Now it is our job to find a way to be constructive and responsible at the same time, and give you what you want."
ABOVE: The ITID Board of Supervisors.