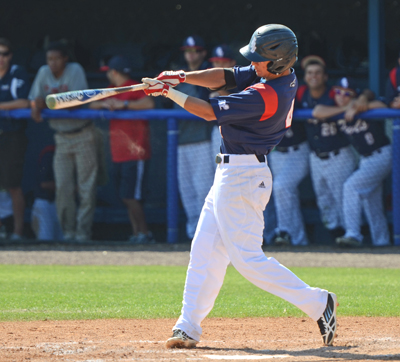 BY GENE NARDI
These days, baseball standout Mitch Morales has made his transition to college baseball as a Florida Atlantic University Owl.
On Saturday, March 30, Morales helped his team defeat South Alabama 7-6 before a home crowd. The Owls scored five unanswered runs late in the game to edge out the Jaguars.
The Wellington High School graduate was a Palm Beach County all-area first team select. Morales, now a sophomore with the Owls (18-9), is the starting shortstop and is making an impact for his team this season. He earned the spot early last season as a freshman. Morales has started in all 27 games this season and is sporting o44ne of the team's best batting averages at .348.
Morales chose Florida Atlantic University (Division I, Sunbelt Conference) over several other schools. "I loved everything about it, and the coach told me I would be given every opportunity to play — I just had to go out and prove it," he said.
His parents were at the field last Saturday to see him play against South Alabama. "I'm very close to my family, and another reason I chose to play here was so they could always see me play," he said. "I love being that close to home."
Morales noted that baseball runs in the family. His father has an extensive baseball résumé as a player, scout and former coach at Palm Beach State College. Morales also has a younger brother who plays at Wellington High School on the varsity team as a sophomore.
Owls head coach John McCormack spoke highly of Morales after their come-from-behind victory over the Jaguars. "He has been fantastic for us this season," the coach said, "not only defensively, but he has been very clutch offensively."
Morales said that collegiate baseball is more demanding than at the high school level. He compared it to having a job, but welcomed the challenge. "If you want to stay successful, you have to put in the extra hours," he said.
The communication turned criminal justice major emphasized his desire to win the College World Series as a short-time goal. His long-term goal is to continue his involvement in baseball both as a player, and possibly a coach.
To follow Mitch Morales and the FAU Owls, visit www.fausports.com.
Above: Mitch Morales, at bat, strikes a line-drive into center field.