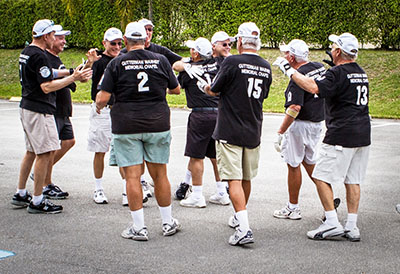 From the urban streets of New York City to the lush green fields at Wellington's Village Park, a group of 70 men continue to keep the once-popular street game of stickball alive.
Now wrapping up its 11th year, the Wycliffe Stiffs Stickball League will host the final game of the season — the championship match — on Thursday, April 11 at 1:30 p.m. at Village Park on Pierson Road.
The mission of the league, started by Wycliffe Golf & Country Club residents, is to "keep stickball a tradition, not just a game." These former New Yorkers have retired to Florida and become more than just neighbors — they're also good friends and now teammates.
It all began with a memory that league founder Marty Ross — also known as "the Commish" (short for "commissioner") — had of his youth. "A friend of mine sent me the pink ball used to play stickball," he recalled. "That's what got me thinking about this sport that I hadn't played or even really talked about in over 50 years."
A spark was ignited, and Ross and a few of his neighbors took to the streets of their upscale, gated golf community. They were as authentic and original to the game as possible. With broomsticks and pink balls in hand, they played their first game.
For some, it was their first time playing stickball. But for the native New Yorkers, this was a rekindled passion of their youth. "Everyone who you meet at that age level had a story to tell about playing stickball growing up," Ross said. "From stories of mothers yelling out the window and complaining 'too much noise' to many other familiar ones."
The game became popular during the influx of immigrants from Europe. With a melting pot of ethnic groups gathering in neighborhoods throughout New York City, street games brought all types of people together. "Once you came to play, the only thing that mattered was that you could play; everything else did not matter," Ross said.
Played among lower-income city youth, stickball became popular because it required little to no money for people to play. "It was a very inexpensive game," Ross said. "It only required a bat and a ball."
The game is similar to baseball with a few differences, and requires players to use a 42-inch long broom handle as a bat to hit a small pink ball about 2 inches in diameter. It's played on a concrete field as opposed to a grass one.
"It was traditionally played in the streets of New York from about the early 1900s to the 1950s," Ross said. "Then cars came into play, and people moved the game from the streets to the school yard."
Gradually, many of these ethnic minorities fled from inner-city neighborhoods in great numbers during the 1950s and '60s to the suburbs. Suburban living paved the way for more organized sports, and stickball became a fading memory of yesteryear.
"You did not hear much about it after that around New York. It did pick up in places like the Dominican Republic and some parts of The Bronx and Harlem, but for the most part, not many people played it like they did when we grew up," Ross said.
Now after years of working and raising a family, the gentlemen have plenty of free time on their hands to play the sport of their youth.
"Things were different back then," Ross said. "Kids weren't like they are now all into their cell phones, text messaging and the Internet. Things were much simpler back then."
The formation of the Wycliffe Stiffs Stickball League began 12 years ago, when one of Ross's friends, in New York, stepped into a hardware store. "He saw a ball that looked like the ones we used to play stickball," Ross said. "He sent it to me and asked me if I knew what it was."
When he received the ball, it brought back all the memories. "I knew exactly what it was, but since I'm 72 years old, it was an old memory," Ross said. "I put it in my golf bag and showed it to people and asked them what they remembered."
The response was overwhelming. "I heard all types of stories coming out of the woodwork," Ross said. "It struck me that the mystique of this pink ball could have such an effect on people."
Soon enough they had their first game, and as more gentlemen gained interest, Ross, with help from Director of Operations Harry Klaff, decided to form a league. With assistance from Wellington officials, they were allowed the opportunity to play their games at Village Park.
The Wycliffe Stiffs Stickball League has four teams, the Bronx Legends, Congressional Barons, Harlem Knights and Boston Diehards, and every season they rename and rearrange the teams. "This way things are more balanced," Ross said. "And it gives people the opportunity to play and interact with different people."
They practice and play on a weekly basis and monitor their game standings and batting statistics, among other stats. The league also has created a hall of fame for those players who show dedication to the sport.
"It's mostly based on how much they put into the league's progress and not so much on how well they play," Ross said.
Although winning and playing well is a great feeling, the purpose of the game is more focused on having fun and keeping the sport alive. Win or lose, they are all in it together, through helping each other get better, living a healthier lifestyle and building relationships.
"Many of us do this also for our health," Ross said. "This is a really great way to stay healthy because it builds up endurance and energy."
Most important, it's all about having fun. "That's the best part about playing the game," Ross said. "People can get together and schmooze and talk. It's basically like blowing bubbles, because we are all there to have a good time."
ABOVE: Members of the Bronx Legends celebrate winning the regular season pennant.