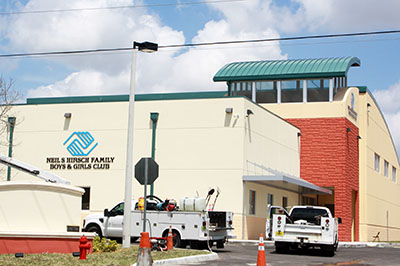 After 25 years at its former home on South Shore Blvd., the Wellington Boys & Girls Club will usher in a new era of growth, education and child care when it opens the doors to the Neil S. Hirsch Family Boys & Girls Club on Sunday, April 28.
The entire community is invited to celebrate the grand opening of the new club on Wellington Trace from 1 to 4 p.m. and enjoy bounce houses, food, a petting zoo and more, all while learning about the new club building.
"We're very excited," said Mary O'Connor, president and CEO of the Boys & Girls Clubs of Palm Beach County. "This is going to allow us to help so many more children in our community."
The new 22,570-square-foot club will allow for more programming and activities, O'Connor said.
"It's three times the size of the old facility," O'Connor said. "There are so many more amenities. There is a full-size gym, a science lab, a music studio, an arts and crafts studio, and so much more. This will allow us to bring in more and more varied programs for the kids."
But most importantly, it will allow the Boys & Girls Club to open its doors to more children than ever. "Because of the size of the other facility, we were always turning kids away," O'Connor said. "This facility will allow us to take in more kids."
And for the first time, teens will have an area within the club.
"They'll have a place to call their own," she said. "It will be a place for our older kids to come together for sports and education with people their age. It means they'll have a place to go where they will be safe."
The new facility drew support from across the community, bringing forward donors and contributors to make the new building a reality.
Neil Hirsch, owner of the Players Club and namesake of the new building, gave $1.5 million, with countless others coming forward to help.
There will be a grand opening for contributors Saturday, April 27, when they will get to see the facility they helped make possible. The facility will then begin regular use following the celebration on Sunday.
O'Connor noted that the Wellington Boys & Girls Club has been a staple in the community for 25 years.
"Before there was a Village of Wellington, we provided a lot of programs for kids and families," she said. "The people who have been in this area for a long time have walked the path with us. It has been 25 years, and many of the children of people in this community grew up in the Boys & Girls Club. It has been part of the very fabric of this community."
O'Connor said she was thrilled to see her dream finally become a reality. "This facility is going to help children in our community for years to come," she said. "It's going to be bigger, brighter and more colorful."
For more information, visit www.bgcpbc.org or call (561) 790-0343.
ABOVE: Workers are putting the finishing touches on the new Neil S. Hirsch Family Boys & Girls Club opening later this month on Wellington Trace.