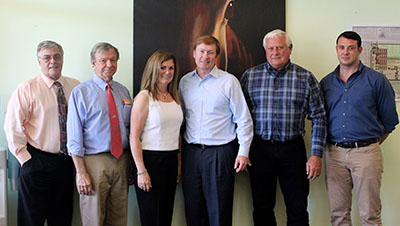 Florida Commissioner of Agriculture Adam H. Putnam visited Wellington on May 21 to meet with the Palm Beach Horse Park development team to discuss plans for the proposed equestrian facility.
The development team presented the current plans and ideas for the horse park, designed to be an addition to Wellington's thriving equestrian scene. The horse park would provide a year-round home for quarter horses and western riding, adding a western flair to the top-notch equestrian offerings in Wellington.
"We wanted to find out how the Palm Beach Horse Park could work with the state to ensure the success of the project now and into the future," said Jack Van Dell, one of the project's leaders.
The proposed location for the park is the K-Park site in Wellington, located at the corner of Stribling Way and State Road 7 at the entrance to Wellington's established "horse country."
Plans for the site include an enclosed, climate-controlled stadium to be used for major equestrian events as well as concerts, trade shows and more; a number of indoor and outdoor show rings to allow multiple events to run concurrently; a supporting commercial district with shops and restaurants; a hotel to host the horse park's competitors and visitors, and an international, multi-disciplinary riding school.
The development team plans to design the stadium and barns as hurricane shelters to serve local residents and their horses and pets in the event of an emergency. They also plan to include a veterinary instructional facility and a school for farriers, adding to the horse park's role as an educational facility.
Van Dell said Putnam seemed positive about the Palm Beach Horse Park's potential to be an asset to the community and state.
"He thought the Palm Beach Horse Park was an exciting and unique concept," Van Dell said. "We discussed how we could work together to have a better facility for everybody."
For information about the Palm Beach Horse Park, contact Van Dell at (561) 333-3100 or palmbeachhorsepark@gmail.com.
ABOVE: (L-R) Bob Basehart, Jack Van Dell, Barbara P. Richardson, Commissioner Adam H. Putnam, Marrell Jerkins and Alexander Van Dell met recently to discuss plans for the proposed Palm Beach Horse Park equestrian facility.