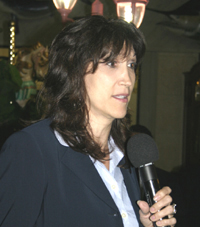 Palm Beach County Inspector General Sheryl Steckler, guest speaker at the monthly community forum hosted by County Commissioner Jess Santamaria, said Wednesday that she faces another challenge next week when the Palm Beach County Commission considers financing and support options for her office.
The Office of the Inspector General has been under attack from a variety of sources, she said, including 14 municipalities led by West Palm Beach, which filed a lawsuit in 2011 objecting to the method of funding.
Discussion at the county commission meeting Tuesday, May 21 will include whether the county should continue its defense of that lawsuit and continue its current method of calculating and financing the inspector general's office, or consider two alternatives.
The alternatives are to continue its defense of the funding lawsuit but direct county staff to implement a 0.25 percent contract fee as indicated by the inspector general's enabling ordinance approved by voters; or try to negotiate a settlement of the lawsuit that would implement the 0.25 percent contract fee via county ordinance, but make it a choice of the cities to use the inspector general's audit services, with the cities independently contracting and paying for those services if desired.
Steckler said the question has gone from being a financing issue to being an independence issue.
Since the lawsuit was filed by the cities, the clerk's office has withheld payments from all municipalities, including the 24 cities not involved in the lawsuit.
In addition, under the current funding scheme utilizing the Local Government Electronic Reporting (LOGER) system, Steckler said her financing has been further reduced, forcing her to curtail hiring for her office. The office currently has 24 staff members when it should have 40, she said.
"A settlement agreement that would virtually take our funding away is a problem for us," Steckler said. "The ordinance very clearly states that the purpose of establishing this funding base is to insure that the office is adequately funded."
Steckler said that another problem that has arisen has been the Office of the Inspector General being represented by the county attorney, whose client is the county and the county commission, while Steckler believes that her office should be represented by its own attorney.
She pointed out that the inspector general's office in Miami-Dade, which the Palm Beach office was modeled after, has its own legal team, and not having its own legal team tears down the office's independence.
The discussion by the county commission is scheduled for 10 a.m. Tuesday.
ABOVE: Palm Beach County Inspector General Sheryl Steckler.