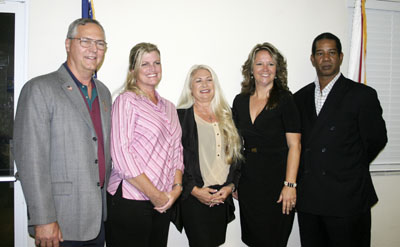 The Indian Trail Improvement District Board of Supervisors held a public hearing Monday on its draft budget for fiscal year 2013-14 budget. The budget emphasized holding the line on assessments while still making major drainage improvements.
Key goals of the draft budget were a comprehensive drainage plan, in-house canal improvements, telemetry to continue the automation of manually operated water control structures, in-house mowing and a road improvement schedule, Director of Finance Katrina Myers-Arnold said.
A majority of the budget is allocated to maintenance of the district's 389 miles of unpaved roads and 70 miles of paved roads.
The overall proposed budget is up from $9.6 million this year to $10.8 million next year, due largely to an increased focus on drainage. The average assessment increase for all active units is 1.48 percent, with the average assessment being $426 a year.
For 2013, the administrative draft budget would increase by 2 percent from $1.65 million to $1.66 million. Myers-Arnold pointed out that the department has three years of unqualified audit opinions with no management comments. The department got $1.7 million in FEMA reimbursements from Tropical Storm Isaac.
The parks draft budget is down 3 percent from the previous year, from $1.08 million in 2013 to $1.05 million in 2014, with $69,500 in renovations planned at Hoefl Park, the district's oldest park, to include installation of permanent restroom facilities and new playground equipment, according to Parks Director Tim Wojnar.
Wojnar said ITID staff is waiting for a board decision on which way to go on the Acreage Community Park expansion, which was budgeted in 2012 but put on hold following the flooding from Tropical Storm Isaac.
Director of Maintenance & Operations Michael Guinaugh said his department's budget is up 6 percent, which highlights four mowing positions, replacement of one motor grader, equipment for a road and canal crew, 24 road maintenance projects and $875,000 in road improvements.
Pump operations and aquatics would see a 78 percent increase from about $1.2 million to $2.2 million, with a major focus on comprehensive drainage planning to include ongoing telemetry upgrades, canal maintenance, and pump and engine rebuilding and replacement.
ITID Administrator Tanya Quickel pointed out that only one motor grader is scheduled for replacement instead of two as originally planned. Two mowers are scheduled to be purchased, as well as a heavy equipment trailer, sweeper attachment, skid steer, vibratory roller and box blade.
None of the district's 26 vehicles are scheduled for replacement, and no dump truck replacement is scheduled as originally planned.
Resident Patricia Curry asked how much use Hoefl Park gets, and Wojnar said it is not used as much as other parks because it only has a portable toilet.
"Hoefl Park has one of the largest pavilions in the district," Wojnar said. "The parking lot is one of the largest in the district. It can accommodate a lot of people, and we get a lot of requests to do wedding receptions there. But as soon as people find out there is a port-a-potty there, that's a turn-off."
The playground equipment was installed in 1995, and it was designed to last 10 to 12 years. "A lot of the replacement parts for that playground are no longer available," Wojnar said, adding that the playground equipment is heavily used by daycare centers and home-school families.
Resident Alan Ballweg suggested that the district replace the pumps scheduled for rebuilding and keep the old pumps as portables in the event of another flood. Ballweg also asked about the planned telemetry upgrades, as he was under the impression there was only one telemetry failure during the flood.
Guinaugh said some of the sites require a new telemetry installation because they are required as part of the South Florida Water Management District permit application. Other sites do not interface well with the district's computer system, he said.
ITID Vice President Carol Jacobs complimented Guinaugh on his work since he took over the directorship of maintenance and operations several months ago.
"Everywhere I go, people are working," Jacobs said. "I think the more efficient we get in-house, a lot less money will be wasted."
The Truth in Millage (TRIM) resolution, budget and assessment rates will be presented at the June 5 ITID board meeting.
ABOVE: The ITID Board of Supervisors.