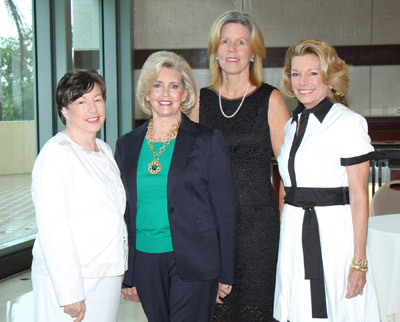 The Executive Women of the Palm Beaches held its 30th annual Women In Leadership Awards on Thursday, May 2 at the Kravis Center for the Performing Arts to honor local women who have shown commitment to integrity and diversity.
The keynote speaker for the evening was Lilly Ledbetter, a champion for women's rights.
"We can do better," Ledbetter said. "Women make 78 cents for every dollar a man earns in this country, and that's not good enough."
Accepting less pay means receiving less Social Security and less pension money accrued for many workers, which has a major impact on the economy. This often forces retirees to move out of their homes and in with their children, creating additional hardships and less money to spend. It is not good business.
Ledbetter would know; she worked as a supervisor at a Goodyear tire plant in Gadsden, Ala., for 19 years. Toward the end of her career, Ledbetter began to suspect that she wasn't getting paid as much as her male counterparts. The rest is history. In the battle for equality in the workplace, her name is now etched in the nation's law books as the Lilly Ledbetter Fair Pay Act of 2009.
The law established new standards to ensure equal pay for equal work. Today, she is working to pass the Pay Check Fairness Bill, which will offer more protection for women and minorities.
For its 30th anniversary, the Executive Women of the Palm Beaches wanted someone who advocated for women's rights in the work place, and Ledbetter fit the bill. The organization prides itself for being the first organization in Palm Beach County to honor professional women leaders in the community, and this year was no exception.
The Women In Leadership Awards are presented to women in three community sectors — volunteer, public and private — recognizing their outstanding achievements, generosity of spirit, and commitment to integrity and diversity.
The 2013 WILA honorees are Anne Gannon, Michelle Poole and Jane Kreusler-Walsh. Also honored were Executive Women member Blain Aymond, who organized the first WILA luncheon 30 years ago and member Julie Kime, who has supported the WILA event every year for 30 years.
Honored in the volunteer sector, Michele Poole is owner and CFO of North Ridge Electric Inc. She served her industry on a local, statewide and national basis for many years, including working with Secretary of Labor Elizabeth Dole in setting standards for women in jobs traditionally held by men. However, it is her remarkable accomplishments as a volunteer leader that truly sets Poole apart.
When one of her twin granddaughters sustained a traumatic brain injury as a result of being shaken after birth, Poole went into action. Due to a number of circumstances, she and her husband adopted the twins and Poole began the journey of being a Shaken Baby Syndrome (SBS) family. She learned all she could about SBS and attended conferences. Armed with information, she created a presentation and contacted schools, daycare centers, drug rehab centers, women's shelters and other agencies, giving them literature and requesting to speak at events.
Poole continues to be an active volunteer leader and has been recognized many times for her efforts, including 2012 Advocate of the Year: National Center on Shaken Baby Syndrome. She took a tragic event in her life and turned it into a leadership opportunity helping many.
Honored in the public sector, Anne Gannon serves as the Palm Beach County Tax Collector, the first woman to hold the position. She is responsible for collecting and distributing over $3 billion in tax revenue and the issuance of Real ID compliant driver licenses for Palm Beach County. The agency employs more than 290 people in the central office and eight service centers that collectively handle over 4,000 transactions daily.
Gannon served on the powerful House Health Care Appropriations Committee, where she secured funding for many health and safety programs for women and children. Her longstanding commitment to combating violence against women and children is evidenced in her fundraising and volunteer service to Aid to Victims of Domestic Abuse (AVDA), Healthy Mothers/Healthy Babies, and both the Statewide Task Force on Human Trafficking and the Palm Beach Human Trafficking Coalition.
Jane Kreusler-Walsh was honored in the private sector. Walsh and her firm, Kreusler-Walsh, Compiani & Vargas P.A., specialize in civil appeals and litigation support in state and federal courts. Kreusler-Walsh is a board-certified appellate lawyer by the Florida Bar and is AV-rated by Martindale-Hubbell. She has practiced in West Palm Beach for more than 30 years. Her all-woman firm recently won the 2012 Athena Business Award given by the Chamber of Commerce of the Palm Beaches, honoring the firm's efforts in mentoring women.
Kreusler-Walsh's professional honors are many, including the American Academy of Appellate Lawyers Fellow since 2003, 2011 Appellate Lawyer of the Year for West Palm Beach and the 2013 South Florida Legal Guide's Top Lawyers list. She has served on the Board of Trustees of the Legal Aid Society of Palm Beach County since 2003 including serving as president for three years and vice president for two years during that time.
Through its Women in Leadership Awards, Executive Women of the Palm Beaches strives to honor women in leadership and their significant accomplishments and to raise funds to empower women and to promote them to positions of leadership. Proceeds from the luncheon support the scholarship and grant programs administered through its charitable foundation, Executive Women Outreach.
For information about Executive Women of the Palm Beaches, call (561) 684-9117 or visit www.ewpb.org.
ABOVE: National women's rights activist Lilly Ledbetter (second from left) with Women In Leadership Award (WILA) recipients Michelle Poole, Anne Gannon and Jane Kreusler-Walsh.