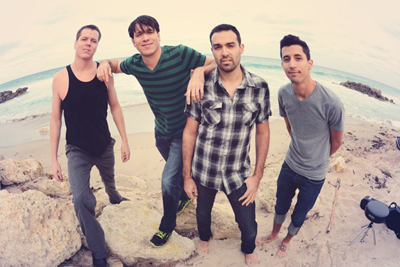 Local band Making Faces will join the SunFest lineup this year when they open for the Barenaked Ladies on Sunday, May 5 on the main stage.
Making Faces will also be performing at after-parties each SunFest night on Clematis Street: Thursday at Feelgood's Rock Bar & Grill, Friday at World of Beer, Saturday at Bar Louie and Sunday at Tin Fish.
Making Faces has been working hard. Hailing from West Palm Beach, they formed in 2011 and have performed more than 250 shows over the past two years. Members include John DeMatteo, Matt Shea, Jesse Lopez and Matt Gaulin.
Making Faces' full-length album Bright Roads Ahead was released in February 2012, and a second album is in the works. The band made a regional impact on the Southeast during their summer tour and are constantly performing and touring.
With a groovy blend of genres, the members of Making Faces dub their sound as "rockin' reggae funky punk," calling it a mix of Sublime, 311, the Red Hot Chili Peppers and Green Day. The band is known for its energetic and catchy songs, fun-loving positive vibes, crowd interaction and stage antics. The band members believe a song can be used to open someone's mind and penetrate their heart. They aim to put a smile on your face, with positive and inspirational lyrics.
The band has headlined major festivals and events such as Light Up Ocala, Ignite the Night, the Delray Affair, the South Florida Fair, Hard Rock Live and are looking forward to Bright Roads Ahead.
Check out Making Faces online at www.makingfacesmusic.com or www.facebook.com/makingfacesmusic.
SunFest is the largest waterfront music and art festival in Florida, with more than 200,000 attendees. This year's SunFest runs May 1-5 in downtown West Palm Beach. Other acts performing this year are Train, Smashing Pumpkins, the Offspring, Gavin DeGraw, the Black Crowes, Slightly Stoopid, Kendrick Lamar, Cheap Trick, Less Than Jake and many more. For additional information, visit www.sunfest.com.
ABOVE: Making Faces: (L-R) Matthew Shea, John DeMatteo, Matt Gaulin and Jesse Lopez.