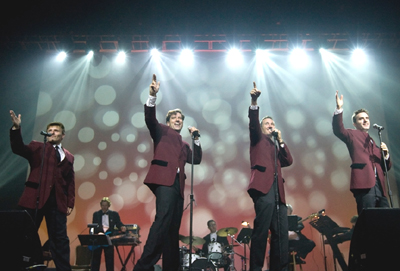 Lynn University and producer Jan McArt, director of theater arts program development, have announced that both season subscriptions and individual tickets are now available for the Live at Lynn Summer Series. This new three-show series is sponsored by the Len Camber Charitable Trust and trustees Sanford and Marion Goldstein, and will all be presented in the Keith C. and Elaine Johnson Wold Performing Arts Center in Boca Raton.
The three shows being presented during the upcoming Live at Lynn Summer Series are as follows:
• Forbidden Hollywood, June 1-2 — Show times for "The Smash Hit Musical Comedy of Movies" are 7:30 p.m. Saturday and 4 p.m. Sunday. McArt was the first producer to bring Forbidden Broadway to Florida more than 20 years ago — and through the years it proved to be such a hit that creator Gerard Alessandrini now brings Forbidden Hollywood to town with guns blazing and smokin' with attitude. Cutting through Tinseltown's bombast and star power with surgical precision, a comic once-over is given to blockbusters such as Star Wars, Titanic, Harry Potter, Lord of the Rings, Austin Powers and Moulin Rouge. Performers include Cameron Diaz, Nicole Kidman, Jim Carrey and Tom Cruise, as well as legends such as Marlene Dietrich, Marlon Brando, Doris Day, Barbra Streisand and Louis Armstrong. This tongue-in-cheek extravaganza provides an evening of laughter and fun with no holds barred on some of the great musical icons of our time.
• The High Class Keys of Dunlap and Pennington, June 15-16 — Billed as "classical piano meets the digital age," show times are 7:30 p.m. Saturday and 4 p.m. Sunday. If you enjoyed Ferrante and Teicher, you will love Dunlap and Pennington. These classically trained, international performers have brought their duo act into the digital age by combining a 9-foot grand piano with a 21st-century custom-designed instrument called a "Wersi." Experience the magic of their flying fingers and dancing feet projected larger-than-life as they perform everything from Brahms to Broadway and from Gershwin to Gaga. Dunlap and Pennington bring the classics to a whole new generation who understand 21st-century technology in this beautiful multimedia performance.
• Atlantic City Boys, July 6-7 — Show times for this Jersey Boys tribute are 7:30 p.m. Saturday and 4 p.m. Sunday. Take four talented performers who all played on Broadway in Jersey Boys, add the repertoire from the wonderful period of the '60s, mix in the charisma and charm of these handsome young men, and you get the Atlantic City Boys singing your favorite hits in their inimitable Jersey Boys style. With hits such as "Big Girls Don't Cry," "Walk Like a Man," "Oh What a Night!" and "Sherry Baby," there has never been a decade quite like the '60s.
Season subscriptions for Live at Lynn are now available at $78.75 for all three shows, while individual tickets cost $35 per show.
Both subscriptions and individual show tickets can be purchased online at www.events.lynn.edu, by phone at (561) 237-9000 or at the Lynn University box office, located in the Wold Performing Arts Center at 3601 N. Military Trail in Boca Raton.
The 750-seat Wold Performing Arts Center, located on Lynn University's campus in the heart of Boca Raton, is easily accessible by both I-95 and Florida's Turnpike. The Wold Center features superb acoustics, a modern lighting system, a large lobby and flexible space well-suited for dramatic productions, concerts and other cultural events.
With an elegant salon, outdoor sunset terrace and intimate black-box studio, this new center is home to numerous concerts and events, including live theatrical performances by the theater arts program and professional Live at Lynn theater series and the Live at Lynn American Songbook series, as well as concerts by the Lynn Conservatory of Music.
ABOVE: Atlantic City Boys, a Jersey Boys tribute featuring the music of the Four Seasons, runs July 6-7.