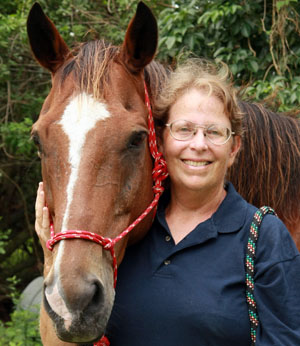 TAILS FROM THE TRAILS
Lots of us have done lots of things with and to horses: ride them, of course, train them, show them, occasionally dress them in costumes, take them on trail rides, feed, groom, care for and love them. But how many of us read to them?
That's exactly what a group of 175 first-graders from Hidden Oaks Elementary School did on Friday, May 17. When the three school buses pulled up at the Good Earth Farm in Loxahatchee Groves, the kids, who'd brought along their books, could hardly wait.
The field trip was part of the Horse Tales Literacy Project, formerly the Black Stallion Literacy Foundation, and was coordinated by South Florida Director Shelly LeConte.
"I've been working with Horse Tales for five years," LeConte said. "It's great. I love it. The kids get very enthusiastic, especially when they read to the horse. The program really works. It's like magic."
The program promotes literacy through combining live horses with classic horse literature. It was conceived in 1999, when Tim Farley — son of Walter Farley, author of the Black Stallion book series — and Mark Miller, owner of the Arabian Nights Dinner Attraction, acted on their common interest in encouraging children to read. They started the program, in which more than 600,000 children across the United States have participated.
"We contact local elementary schools and tell them about the program," LeConte explained. "We currently have two curriculums, one for first grade and one for fourth grade. If a teacher decides to sign up, we visit the school, bringing along live horses."
The children get to pet the horses. This is called their First Touch, and then they get copies of books by Walter Farley. First-graders get Little Black, a Pony and Little Black Goes to the Circus. Fourth-graders get The Black Stallion.
"We have a variety of lessons and exercises that teachers can use with the books," LeConte said. "They can tailor the materials to fit their students' needs. Then they get to come on a field trip, called the Second Touch, where they learn about horses and see them in their usual setting. They learn about nutrition, grooming, vet care, training, tack and they get to read their favorite passage to the horse."
LeConte brought two horses to Hidden Oaks on May 9.
"I saw a bulletin about the program, so I contacted Shelly," first-grade teacher Danielle Deckelmann said. "The First Touch went very well. The kids were excited when the horses came, and they each got to pet them. The horses were well-groomed and very docile. The kids lingered with them and wanted to spend more time with them. Even the children who were a little intimidated at first watched the others and saw it wasn't too scary, so they touched the horses, too."
Getting the books was also exciting, she said.
"They each got a copy of the two books, nice hardback books, and they were so enthusiastic about reading them, just enthralled with those books," Deckelmann said. "They were so motivated, it was hard to get them to put them down. They read and read those books, and practiced reading their favorite parts daily to friends and family members. They could hardly wait to read to the horses. On the whole, the program is a very positive experience for everyone — parents, teachers, administrators and, of course, the students. I'd absolutely recommend this program to other teachers. I'm looking forward to doing it again next year."
The kids had already been organized into seven groups of about 25, along with teachers and plenty of parent chaperones. They bounced off the buses and headed over to the first of the seven learning centers through which they'd rotate: horse nutrition, training, grooming, anatomy, tack, stick pony races and reading to the horses.
"Shelly's a dear friend, and I was glad to invite her to use the Good Earth Farm," owner Nancy Fried-Tobin said. "We've got just the right facility and lots of room and horses. Shelly puts a lot of effort into this. She's very organized, which makes it easy, simple and fun for the kids."
Jennifer Cox's 6-year-old daughter, Kendall, was one of the participants.
"She's very excited," Cox said. "It absolutely has helped her want to read more. Between the two of us, we're going to talk Daddy into letting us get a horse."
The groups of children hurried to their first learning stations. Dr. Ryan Lukens of Palm Beach Equine taught anatomy using Ebony, one of Nancy's horses. Two 4-H volunteers demonstrated grooming on Arkan, a paint Gypsy Vanner. Vitor Marquez, a trainer, worked with Ozzie the zebra. Best of all, there were four miniature horses for the children to read to: Onyx, Cookie, Fuzzworth and Goldie. The kids had their books out and ready as they stood in line, awaiting their turn.
"I felt a little shy about reading out loud to the pony," said Victoria, one of the first-graders. "It was my first time reading out loud. But I could tell the pony liked it. I'd like to do it again."
"How many liked reading to the ponies?" I asked the children. All the hands shot up. "How many of you thought the ponies liked having you read to them?" All the hands shot up again.
The ponies did, in fact, look happy. I think, had I asked, that they might have voted four hooves up as well.
For more info., call Shelly LeConte at (561) 252-1432 or visit www.horsetalesliteracy.org.