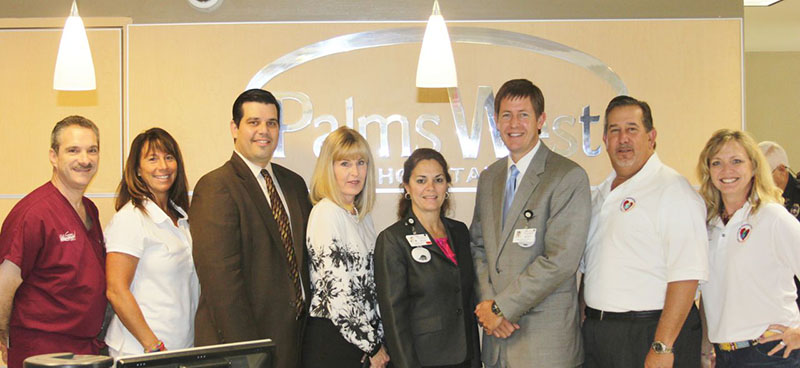 The Kids Cancer Foundation recently started the Founders Campaign, a program that provides an opportunity for leading individuals, families, corporations and foundations to provide sustaining financial support for the programs of the Kids Cancer Foundation & Cancer Center. Palms West Hospital has recently become a "Founding Partner" supporter through the program.
The Kids Cancer Foundation is devoted to assisting the children in the community who are battling cancer and/or a blood disorder. This assistance includes help for the whole family — the parents, the siblings and the patient.
"When a child is diagnosed with cancer, it seems to hit the whole family like a ton of bricks, and it tends to knock them off of their feet," said Michelle O'Boyle, founder and executive director of the Kids Cancer Foundation. "Their carefree childhood days quickly seem to disappear, and they are consumed with endless doctors' appointments and hospital visits. It is at this point that the Kids Cancer Foundation steps in to provide the families with some much-needed support as they battle this horrible disease. We refer to our patients as 'Our Little Warriors.'"
With the support of Commissioner Jess Santamaria, the foundation recently opened a cancer center in Royal Palm Beach. The center allows the Kids Cancer Foundation to have a centralized, yet "homey" facility for families to enjoy during the long hours involved in their child's cancer treatment.
"We are right up the street from Palms West Hospital," said Sandy Erb, a board member and full-time volunteer. "The parents can drop off their kids with us while they take their child with cancer to the hospital for a treatment or a doctor's appointment."
The center offers assorted services, such as tutoring, nutritional education and cooking, art therapy and a place to relax.
Palms West Hospital's donation and support of the Founders Campaign denotes the intrinsic value that the hospital places on the services and programs of the Kids Cancer Foundation.
"As the only pediatric hospital in the western communities, we believe that children and their families should have a place to feel safe and supported during difficult times," Palms West Hospital CEO Eric Goldman said. "We strive to provide that family-friendly environment for them while receiving treatment at Palms West, but the Kids Cancer Foundation offers another safe haven for parents and other family members, which is invaluable."
It has been proven that optimal treatment can be achieved when a patient is viewed and treated as a "whole picture" and not just concentrating on the medical aspects of treatment.
"One family might need nutrition counseling to ensure their child maintains a strong energy level, and another child might need some tutoring due to absences from class due to treatment." O'Boyle explained. "We can provide that at the Cancer Center."
The Kids Cancer Foundation, due to its proximity to Palms West Hospital, provides many of the supplemental services that Palms West's young cancer patients need. But the foundation's services are available to many other children in South Florida, as well.
"Currently we have more than 100 children utilizing our various programs and services," O'Boyle said. "Unfortunately, our numbers are up, and we have more patients than we have ever had. Our outreach into the community is growing and strengthening every month."
The Founders Campaign will enable the Kids Cancer Foundation to build an enduring relationship with many leading businesses and organizations in the community, such as Palms West Hospital. The synergistic nature of that relationship only strengthens both organizations.
Founders Campaign donations will help to ensure that the Kids Cancer Foundation will be able to continue offering these supportive services and programs for years to come.
For information on the Kids Cancer Foundation & Cancer Center, and/or the Founders Campaign, visit www.kidscancersf.org, call O'Boyle at (561) 371-1298 or e-mail michelleoboyle@bellsouth.net.
ABOVE: Kids Cancer Foundation volunteers with Palms West Hospital officials: (L-R) Dr. Steven Pliskow, Michelle O'Boyle, Palms West Hospital CEO Eric Goldman, Chief Operating Officer Madeline Nava, Chief Nursing Officer Silvia Strada, Chief Financial Officer Scott Herndon, Frank Dowling and Sandy Erb.