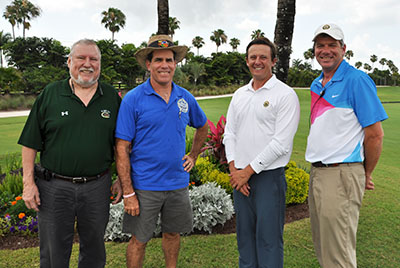 Members of the Parrotheads for the Palm Beaches, a Jimmy Buffett–themed social organization, met on Saturday, May 11 at the Wanderers Club in Wellington to discuss plans for the upcoming "PHairway PHlocking Golf Tournament and Dinner Dance Party" to be held Saturday, June 8.
The tournament will begin with an 11:30 a.m. check-in and 12:15 p.m. putting contest with a shotgun start at 1 p.m.
The exciting day will include games and contests on the course followed by raffles, a silent auction, and an island-style buffet, trivia contest and dance party featuring live music by Jason Collannino and his island band from 5 to 8 p.m.
The real winners of this fun-filled day and night will be Adopt-a-Family of Palm Beach County, the charitable organization which helps families in crisis and keeps them from the risks of homelessness.
The cost to enter the tournament and play at this exclusive private club is $115 per golfer or $440 per foursome, which includes golf and the dinner dance party. To just attend the dinner dance party, the cost is $25.
Event sponsorships and advertising opportunities are still available.
For more information, call Dan Getson at (561) 239-0484 or Ed Portman at (561) 602-4409. To pay by credit card, visit www.palmbeachparrotheads.com and use the PayPal connection.

ABOVE: Tournament Coordinator Ed Portman, Parrotheads for the Palm Beaches Golf Chairman Dan Getson, Wanderers Club Director of Golf Justin Thompson and Outside Services Manager Roger Worrell.