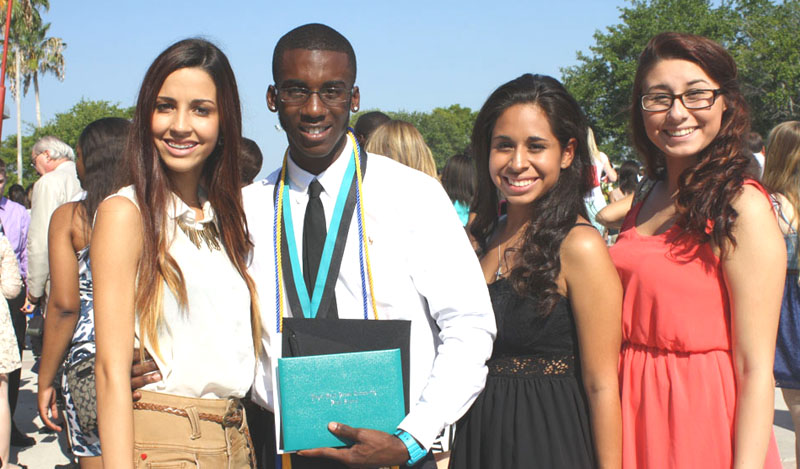 BY ALEXANDRA ANTONOPOULOS
Royal Palm Beach High School Principal Jesús Armas implored the Class of 2013 to define their personal vision of excellence at the school's commencement ceremony Friday, May 24.
VIDEO: Slideshow of RPBHS Grad Photos
From the stage of the South Florida Fairgrounds Expo Center, Armas challenged the 478 graduates to go into the world with high standards for their own achievements and recognized the students' families for supporting them during their high school tenure.
"Thank you for allowing Royal Palm Beach High School the honor and privilege of educating your child," Armas said.
School District of Palm Beach County Superintendent E. Wayne Gent added that graduation is no small feat and requires a commitment of completion.
"It requires both tenacity and perseverance. Graduation is a time for celebration, however it is also a time for introspection, for soul searching, for decision making. Most importantly, graduation is a time for action," he said. "Quite simply, graduation is where the rubber meets the road."
Gent reiterated the importance of being ready to begin a new way of life. "You're going to have to make decisions, solve problems and do things as an adult," he said. "And are you prepared for it? Are you prepared to develop a budget for your life? Are you prepared to be responsible? The decisions you make in the next few years, you will spend the rest of your life managing."
Gent urged the Class of 2013 to go against the grain and to stand up for their own integrity, challenging them to become registered voters before the fall and to take an active role in society.
Salutatorian Christina Lam reflected on her high school career and what she gained from the effort that she put forth.
"One of the most important things I learned in the past four years was to trust myself," Lam said of her many late nights spent studying for exams. "The stress I experienced not only tested my endurance, but it made me the person that I am today."
Lam's message to her classmates was, at its core, about believing in one's self and staying true to personal beliefs and values. "Stand up for yourself, especially when there's no one else standing for you," she said.
As life throws unexpected challenges, Lam advised her classmates to remain calm and continue to press forward. "Commit to a goal, but most importantly, commit to yourself," she said.
The themes of family support and aiming high continued with the speech from Valedictorian Hannah Locop. She urged her classmates to embrace coming changes and challenges that life after high school will bring. "Your journey begins today," she said. "Whether you're scared to leave or you just can't wait, nobody knows what time can bring."
Both Locop and Lam reminded their classmates to celebrate their achievements and to go into their adult lives with confidence. "Some things aren't what you expected — they're better," Locop said. "And in that same spirit, we are not what was expected — we are better."
When Armas returned to the podium for the ceremony's closing remarks, a few choice words of inspiration got the students laughing. "As Drake would say," said Armas, "we started from the bottom, and now we're here."
He returned to his theme of excellence to remind the graduates that, from their first days at Royal Palm Beach High School, the students had displayed their excellence in many different ways.
"I can't tell you how proud I am of all the examples of excellence I've seen. I see excellence when I see Taylor Sarni emcee an event or Paulena Wermuth performing in a play or Adrienne Velasquez cheering," he said, calling out a few graduates by name.
The ceremony's speakers imparted words of optimistic wisdom, and the graduates eagerly took it all in. When senior class president Gabrielle Marionakis led the Class of 2013 in the turning of their tassels, the excitement was palpable.
As the graduates walked in the recessional to "Pomp and Circumstance," the words from Lam's salutatory address seemed even more appropriate. "Your greatest investment," she said, "is the investment in your future."