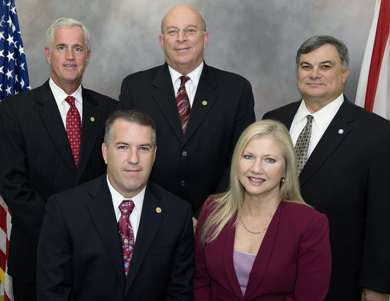 Members of the Wellington Village Council are giving owners of the controversial Equestrian Village project a second chance to get approvals for the site in exchange for putting pending lawsuits on hold while the process is revisited.
In what they called a "leap of faith," council members were divided 3-2 in favor of making the offer at Tuesday's meeting, with councilmen Matt Willhite and John Greene opposed.
The offer, if accepted, would allow Wellington Equestrian Partners to re-file applications for all of the necessary documents that must be approved before the site can operate.
Attorney Claudio Riedi, who is representing Wellington in several pending lawsuits regarding Equestrian Village, said developers would have to accept the offer before it could go into effect. "We've tried to come up with a path forward," he said.
At press time, no agreement had been made.
Riedi said that the developers would have 180 days to file the paperwork, during which time they would ask for a stay of the two cases that Wellington Equestrian Partners Managing Partner Mark Bellissimo filed last year against the village.
Then site owners would have to submit a revised land development permit that complies with the previous existing master plan.
"That is the master plan that was in place last year, before a new master plan came in and was revoked," Riedi said.
That would mean the site could have only one entrance on South Shore Blvd. to access the property, he said. Once the permit is approved, the site could operate for up to six months for approved uses while a new site plat is being considered.
Additionally, Riedi said that show promoters would have to apply for a seasonal equestrian use permit, adding that the council would be under no legal obligation to approve the permit.
Finally, site owners would have to submit a revised master plan and application for a commercial equestrian arena compatibility, both of which would be reviewed by the council.
"If the council approves the master plan amendment and determination… the plaintiff will then dismiss the pending lawsuits," Riedi said.
If the village did not approve the amended master plan and the two sides could not come to an agreement, however, the lawsuits could be continued, he said.
A key component to the offer is that in submitting new applications, there would be no prejudice to the pending lawsuit, Riedi said.
This means that the terms of the new applications could not be used against Bellissimo in his lawsuit, which seeks to have all previously approved permits reinstated.
Councilwoman Anne Gerwig said that there was a risk of going around in circles.
"If the applicant does not get what he wants, then we're back where we started," she said.
Vice Mayor Howard Coates said it was a chance for negotiation.
"It's a no-risk situation for both sides," he said. "It would be up to the applicant to bring before us whatever they are planning."
Greene said he was concerned that Wellington would make a settlement offer before seeing the proposal.
"Have we seen this before, where someone has come before us and asked for a settlement negotiation or offer for us to accept before they've submitted what they want?" he asked.
But Village Manager Paul Schofield said it was Wellington extending an offer.
"It became clear that differences still exist," he said. "There was no giant step to take. It has to be done in incremental steps."
Village Attorney Laurie Cohen stressed that Wellington was making an offer, not a settlement proposal.
"We're making an offer to [Bellissimo] to go through these steps," she said. "The council could consider a counteroffer or… you can say that this is the offer and you're not budging."
Greene noted that the site owners could have gone through the very same process now being proposed — resubmitting applications — at any time over the last year.
"There has been a remedy to this since last May," he said. "Unfortunately, we have had to spend our time and energy focused on litigation and not solutions."
Willhite agreed. "The applicant could have walked in the door any day and taken this option," he said. "At any time they could have done this; they chose not to. They stood in front of us and said it would hurt their settlement position."
But Coates said the key difference was that Wellington would agree that there would be no prejudice to Bellissimo's litigation.
"The reason we have not seen him come back before us [with new applications], I imagine, is because he was advised that he could prejudice his position," Coates said.
Coates said it would take a "leap of faith" on both sides.
"The applicant has to believe he's getting a fair shake," Coates said. "And the applicant knows that part of what was requested before is not acceptable for the majority of this council. So, we have to believe he will come forward with something different that will persuade those people to support him."
But Greene and Willhite were not convinced.
"Nothing is preventing them from coming in here tomorrow or a year ago and filling out a new master plan and special-use permit," Greene said. "If this doesn't move forward for the summer season or next season, it's not on my hands."
During public comment, residents were in favor of approving the offer.
Jill Townsend said she was optimistic the issues could be resolved. "I so appreciate hearing that you're willing to open the process up and negotiate," she said.
Coates said he thought the issue had become personal for some council members.
"To not be in favor of trying this process tells me it's become too personal," he said. "No matter what is put in front of us, it's going to be objectionable to some people. It says we're not even willing to take the first step. I think that is a disservice to the people of Wellington."
But Greene said he didn't want to change the rules for one person.
"What rule is different?" Coates asked. "What rule are we changing that we wouldn't do for other people?"
Greene said he thought it was unfair that Wellington offer this when a remedy to the situation has been there all along.
Coates said that the council already has approved retroactively other items when people had violated the rules, pointing to an application last year from The Ridge horse shows.
"Some of the events had already occurred," he said. "We approved those retroactively."
Mayor Bob Margolis said he believed the village's offer was a "door opener" to solve the issues at hand.
"We can't control what the plaintiff would like or would not like," he said. "We can only control what we can do. If we say no and close the door on this, they continue with the litigation. We have more than 50 percent of our staff handling this day after day."
Margolis said he hoped to see the "dark cloud" hanging over Wellington lifted.
"I think this is a door opener to further negotiations to see if we can come up with some sort of agreement," he said.
Coates made a motion to approve the offer, which passed 3-2, with Willhite and Greene opposed. It must now be accepted by Wellington Equestrian Partners before taking effect.
ABOVE: The Wellington Village Council.